On Campus
Romzek Appointed Dean of AU's School of Public Affairs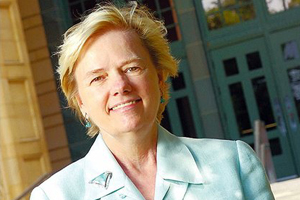 American University has named Barbara Romzek, an expert in the area of public management and accountability, to be the new dean of its School of Public Affairs (SPA). Dr. Romzek will assume leadership of SPA on July 1, 2012.

Romzek is currently a professor of public affairs and administration at the University of Kansas. Her academic research focuses on government reform, contracting, and network service delivery.

"Dr. Romzek's record and standing within the academic community is a welcome asset that will build upon an impressive SPA foundation created under the leadership of Dean William LeoGrande," said Provost Scott Bass in announcing the appointment. Romzek also possesses a wealth of administrative experience in higher education and most recently served as interim senior vice provost for academic affairs at the University of Kansas. Additionally, she has chaired the Department of Public Administration and served as associate dean and interim dean of the College of Liberal Arts. 
A recognized figure in the world of public affairs, Romzek is the co-author of three books and over sixty journal articles, book chapters, and other publications. She recently wrote two chapters on contracting: "The Tangled Web of Accountability in Contracting Networks," Accountable Governance Problems and Promises (2011) and "The Promises, Performance, and Pitfalls of Government Contracting," Oxford Handbook of American Bureaucracy (2010).

The dean search announced last fall outlined the qualifications required to lead American University's top-ranked School of Public Affairs (SPA), which was founded in 1934 and is Washington's oldest school of its kind. SPA boasts 90 full-time faculty members and more than 1,800 students. Today, SPA includes three departments: Public Administration and Policy; Government; and Justice, Law and Society. SPA has four undergraduate degree programs of which political science is the most popular in the Department of Government. There are seven professional masters programs, extensive executive education programs, three doctoral programs, and ten research centers including the Center for Congressional and Presidential Studies, the Women & Politics Institute, Center for Democracy & Election Management, and the Center for Environmental Policy. U.S. News & World Report America's Best Graduate Schools (2013) ranked SPA as the #8 Master of Public Administration program and the #12 school of public affairs.

Romzek served on the faculty at the University of Kansas since 1979 when she began her teaching career there as an assistant professor, and served as a professor of public administration from 1995 until the present. Romzek also served as a guest scholar at the Brookings Institution in 1995. She holds a BA from Oakland University in Rochester, Michigan; an MA from Western Michigan University; and PhD from the University of Texas at Austin.

Romzek succeeds Dean William LeoGrande who will return to teaching in SPA.