Education
Grad School in Your Future?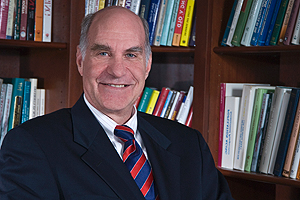 Provost Scott Bass recently sat down with reporter and School of Communication alumna Kate Oczypok to discuss his views about pursuing graduate level education and trends he has noticed regarding third-level education. Bass has been with AU since 2008. He began his academic career as a professor at the University of Massachusetts-Boston.

Kate Oczypok: Did you always want to get a graduate education, and do you feel as if you are always learning?

Provost Scott Bass: It's a learning experience. Lifelong learning never stops. Lots of people take a break between undergraduate and graduate school, but, I really wanted to continue. For me, it all kind of connected, pursuing a graduate education was deep in my interests.

Oczypok: How is AU different from other area schools in relation to graduate programs?

Bass: I would begin by saying graduate education would be like talking about automobiles. There's SUVs, sports cars, minivans. Graduate education is lots of different things, certificates, master's, professional training programs, then the ultimate research degree, which is a Ph.D. Graduate education is a multi-faceted set of offerings. AU offers stackable certificates, which offers the ability to take a break in-between and get your master's with enough certificates.

There's also our online courses and programs including, the world's first virtual master's degree program focused on disability and public policy for the Southeast Asia region , as well as executive, weekend and evening programs including, the Key Executive Leadership Program. Basically, they're all great cars, but to identify your match you have to figure out what suits your driving and personal needs.

Oczypok: Do you think the results of the upcoming presidential election will have an effect on graduate trends?

Bass: I think if watching political pundits is any indication, the election will affect all trends. There is a lot of talk about the "fiscal cliff," and that level will affect people's ability to commit to a graduate education. However, if institutions continue to offer a high-quality product that young people see enables them to be successful, they will continue to apply and go to grad school. Graduate education has the opportunity for success. Changing economic trends have shown that more students are going part-time while they work full-time rather than the typical 22- to 26-year-old full-time student. Increasingly, universities are under pressure to offer graduate degrees friendly to working adults.

Oczypok: What trends have you noticed about graduate school attendance in the past five years or so, either specifically at AU or in general?

Bass: At the master's level there is a steady progress of growth. The big difference is the phenomenal growth of online education—this is a dynamic area. There are changes in the marketplace that require schools and colleges to pay attention. Increasingly, people are choosing to stay employed and work on their education part-time. Therefore, we must offer more options to fit their needs—weekends, evenings and even online courses.

Oczypok: What have you told students who aren't sure about getting a graduate education? What's your best advice for them?

Bass: As you find your way, there are a wide array of opportunities. AU has interface programs, as many schools have, that allow you to pursue an area you know something about. It's a way to connect another skill set and prepares you uniquely. Get good career counseling and recognize the type of degree you want to pursue. A graduate degree can be particularly important for the advancement of an organization. Bill Gates didn't get a graduate degree and was successful without it, but in today's marketplace, with so much competition and hundreds of applications for jobs, a master's degree is preferred in many cases.

Kate Oczypok (SOC/BA print journalism '07) is a former reporter for The Hill Newspaper. Publication of this article courtesy of The Hill.