Government & Politics
The Presidential Candidate's Lifetime Running Mate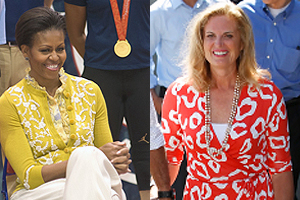 What adviser to the President of the United States (POTUS) is not confirmed by the Senate? Not vetted by campaign staff for the job? Has no job description and receives no salary? If you guessed the First Lady of the United States (FLOTUS), then you are correct! The role of the presumptive FLOTUS or the incumbent FLOTUS on the campaign trail is unique and multifaceted. Anita McBride, executive-in-residence in the School of Public Affairs has first-hand knowledge of this intriguing position having served as Laura Bush's chief of staff from 2005-2009 as well as experience in the George H.W. Bush and Reagan administrations.

Of particular interest to McBride will be Ann Romney's primetime speech at the Convention on August 28. A week later, in Charlotte, McBride will be watching First Lady Michelle Obama. We asked McBride to share her thoughts about the candidate spouse's role in a presidential campaign.

J. Paul Johnson: Why is it important for FLOTUS to be out campaigning?

Anita McBride: The President's spouse has always played an important role in the life of the candidate. They are uniquely positioned as a trusted confidant, a top surrogate and first and foremost -- a fierce guardian of their family and private life. Arguably, no one is as concerned with the candidate's well-being, image and legacy as their spouse.

Johnson: People say Michelle Obama is now more comfortable as FLOTUS and on the campaign trail, what does that mean and do you agree?

McBride: There is no doubt Mrs. Obama has embraced the opportunity to campaign vigorously. The unease in 2008 is gone. For her to know that this is the last time she will campaign for her husband to be president is liberating. She says she's "in it to win it" and as first lady has launched an unprecedented grassroots campaign effort called "It Takes One." She's challenging supporters to do one thing to promote the campaign and engage someone else to do the same. She asks them to think about Nov 7th and whether they will wake up and celebrate four more years or ask themselves "could I have done more?"

Johnson: Is Ann Romney prepared to be the next FLOTUS?

McBride: Having served as First Lady of Massachusetts, Ann Romney, like other FLOTUS's in our history, have an advantage of being better prepared to understand the demands of the position. Nevertheless, no amount of experience in the public eye can ever completely prepare you for life in the White House. Even Laura Bush who had the unique experience of having watched her mother-in-law serve in the role would agree. Ann Romney focused on a portfolio of issues including kids at risk and women's health, and she may likely continue to work on these issues if she becomes FLOTUS. Given her personal challenges with both breast cancer and MS, her support of these issues would bring authenticity and credibility to her efforts.  

Johnson: Does the FLOTUS or would-be FLOTUS like the modern day campaign trail?

McBride: Despite the grueling schedule, most spouses would say that the political campaign experience is invigorating and that it is a privilege to meet people all over the country. It's an opportunity to give a personal account of the candidate as a human being and their vision for the country. However, life in today's political arena and public eye also means hearing harsh criticism of the one person you love most and that's never easy.

Johnson: How have presidential spouses viewed the campaign?

McBride: Eleanor Roosevelt never wanted to be the wife of the President or be called the "First Lady" but once assuming the title she used her platform to advance her causes and became her disabled husband's eyes and ears on the road. Lady Bird Johnson bravely campaigned in the deep-south during the 1964 election - a strategic move as a southern woman because her husband was pushing through controversial Civil Rights legislation. Betty Ford was quite popular on the road and some historians believe had Gerald Ford's advisers allowed her to make one last campaign trip to Ohio it could have changed the election's outcome.

Johnson: Will we see a First Spouse of the United States?

McBride: Yes. I am encouraged by the growing number of female governors around the country which provides an example of having a first spouse – or perhaps no spouse - at the chief executive's side. This question always reminds me of the controversy that swirled around First Lady Barbara Bush's commencement address at Wellesley College in 1991. Many in the female student body protested her selection as speaker believing she had not accomplished much in her own right, rather she married into her position. Rarely at a loss for words, she cut the tension with her characteristic quick wit and also ended her remarks saying "who knows, somewhere in this audience may be a future spouse of the President of the United States…I wish him well!"