Arts
New Exhibits Revisit 1960s Culture, Counterculture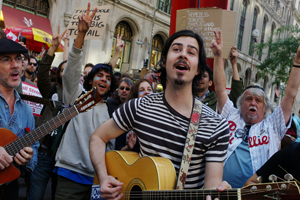 The Sixities was a decade of great hope, change, and despair. Political and social icons John F. Kennedy and Martin Luther King, Jr., rose to prominence and were later assassinated. Young people marched in the streets to demonstrate their support for civil rights and outright disapproval for the Vietnam War.

This fall at the American University Museum at the Katzen Arts Center, audiences can revisit ideas of the 1960s through three new exhibitions: John Cage's STEPS: A Composition For a Painting, Selected Watercolors, Various Objects, and Ephemera; Occupy This!; and Revelation: Major Paintings by Jules Olitski.

John Cage's STEPS: A Composition For a Painting, Selected Watercolors, Various Objects, and Ephemera and Occupy This! plus another exhibition—PLATFORMS—open Saturday, September 1, and close Sunday, October 21. Revelation: Major Paintings by Jules Olitski opens Saturday, September 15 and closes Wednesday, December 16.

Celebrating an Avant-Garde Influencer


John Cage's STEPS: A Composition For a Painting, Selected Watercolors, Various Objects, and Ephemera includes sculpture, mixed-media, watercolors, multimedia installations by avant-garde American composer, artist, and writer John Cage.
Cage, considered by some critics to be one of the most influential American composers of the Twentieth-Century, became involved in the use of non-standard or "prepared" instruments and aleatoric or chance-controlled music. Cage was a major influence on the Fluxus movement, an avant-garde artistic movement in the 1960s that sought to destroy the boundaries between life and art by rejecting the elitism of "high art" and appealing to the masses.  
The exhibition is part of the John Cage Centennial Festival in Washington, D.C.—a series of events held between Tuesday, September 4, and Monday, September 10, to celebrate what would have been Cage's 100th birthday on September 5. As part of the festival, American University's Katzen Arts Center will also host Cage-related concerts and workshops on Friday, September 7 and Saturday, September 8.
"Occupied" with Social Movements
Occupy This! combines art, photojournalism, historic documents, and films to consider—in a broad, historic context—the causes, activities, and representation of the Occupy Movement, which celebrates its one year anniversary on Monday, September 17, 2012.  
While the Occupy Movement is a modern one, the similarity between it and the numerous, large-scale sit-ins and demonstrations of the 1960s is undeniable.
The exhibition was curated by Alison Nordstrom, senior curator of photographs at the George Eastman House, International Museum of Photography and Film, and includes a large collection of work by Facing Change: Documenting America, a nonprofit photo collective comprising acclaimed photographers and writers who produce and publish under-reported aspects of America's most urgent issues.
Occupy This! also includes photographs and films from other, similar movements in American history, such as the Bonus Army movement in the spring and summer of 1932. The Bonus Army, made up of World War I veterans and their families, descended on Washington, D.C., to demand immediate pay for their military service certificates, which, issued to them in 1924, entitled them to a cash "bonus payment" in 1945. Then the Great Depression hit and tens of thousands of out-of-work veterans desperate for money petitioned Washington for early redemption of the certificates.
Revelation: Major Paintings by Jules Olitski
Revelation: Major Paintings by Jules Olitski draws together more than 30 monumental canvases by Russian-born artist Jules Olitski, renowned as one of America's last classic modern painters. The exhibition examines five decades of creative endeavor, highlighting the series that define Olitski's major advances: Stain paintings, Spray paintings, Baroque paintings, High Baroque paintings, and the last great series, titled "With Love and Disregard."
Olitski, who enjoyed enormous acclaim in the 1960s and 1970s, created brilliant color harmonies and chromatic shifts that became one of the hallmarks of Color Field painting. In 1965, Olitski pioneered an approach to Color Field painting by using spray guns to apply paint. Through this technique, Olitski accomplished his goal of creating paintings that resembled "nothing but some colors sprayed into the air and staying there." Critics praised these works and some consider them to be the most important of Olitski's career. In 1969, he was the first living American artist to have a solo exhibition at New York's Metropolitan Museum of Art.
From Friday, September 21 through Monday, December 14, a second exhibition, Jules Olitski: On An Intimate Scale, will show at the George Washington University's Luther W. Brady Art Gallery. While Revelation comprises Olitski's large scale works, On an Intimate Scale focuses on his ability to work on an intimate scale, without any lessening of powerful impact.
PLATFORMS
A platform is something we build upon. Its function, broadly defined, is to provide support and focus.
We build platforms to extract the oil from under our seabeds. To deploy our weapons. To dive for Olympic gold. We stand on them to address an audience. We tie them to our feet and dance to the Disco beat. Politicians construct platforms to convey their principles, beliefs, and agendas. We find platforms in the landscape, a product of geology and erosion, where we build our cities, hoping they might shine and keep safe from the floods.
But a platform's value is not intrinsic. It lies in what is supported. What is now possible.
"This exhibition is meant to address what that might be," said Jeff Spaulding, curator of PLATFORMS, an exhibition of outdoor, three-dimensional freestanding and wall-hung sculpture, installations, and new media.
The exhibition, presented in collaboration with The Washington Sculptors Group, features works by Damian Yanessa, Patrick McGowen, Kate Kauffman, Steven Jones, Linda Hesh, Robert Bickey, Greg Braun, and M. Frank. The Washington Sculptors Group is a volunteer, nonprofit organization dedicated to promoting awareness of sculpture and fostering exchanges among sculptors, sculpture enthusiasts, and the public.
The American University Museum at the Katzen Arts Center is open from 11 a.m. to 4 p.m. Tuesday through Sunday. Admission is free. For more information, call 202-885-1300.