On Campus
Burma Opposition Leader Finally Able to Accept AU Degree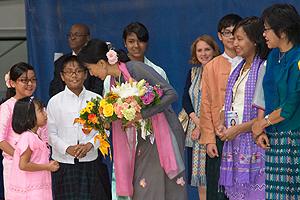 "Please use your liberty to promote ours."
The words of Burmese democracy champion Daw Aung San Suu Kyi remain as poignant and powerful today as they were in 1997, when they were read by her late husband as he accepted an honorary degree on her behalf from American University.
The Nobel Peace Prize winner is visiting the United States for the first time since being released from 15 years of house arrest in 2010. A day after meeting with President Obama and receiving the Congressional Gold Medal, she came to AU to speak to Burmese Americans and accept her honorary degree for herself.
"I would like to thank this university for the great honor," she said. "It was one of the very first universities to recognize our efforts at democracy. The message that I sent to this university, to use your liberty to promote ours, resounded throughout the world. I had not expected that this message would [travel] from this university to so many countries all over the globe. That became a motto for many who wanted to help us."
Crowds of Burmese Americans and democracy advocates of all ethnicities and nationalities began filing into Bender Arena more than an hour before the September 20 ceremony began. Some wore traditional Burmese garb, others Western-style suits and dresses. The enormity of the event was palpable as people snapped photos and recorded the proceedings on phones.
American University has a rich history and demonstrated commitment to democratic principles, human rights, and humanitarian ideals, said AU President Neil Kerwin. He read from the citation that originally was awarded to Daw Aung San Suu Kyi on January 26, 1997, when Burma's ruling military junta would not allow her to leave the country.
"Because of your beliefs you were put under house arrest, you were cut off from your husband and sons, your freedom of movement severely restricted," Kerwin said. "Nevertheless you have served your family, your nation, and all of humanity by continuing to support change through nonviolent action and by speaking against oppression and injustice.
"Throughout this personal ordeal you have never lost hope that democracy, personal freedom, and human rights will ultimately prevail in Burma. The honor we bestow upon you is public confirmation that you have friends and supporters throughout the world. Serving your nation, advancing human rights, advancing democratic ideals, affirming the truth with your very life, you represent the values we cherish at American University."
After the applause died down and Buddhist monks presented their blessings, Daw Aung San Suu Kyi spoke in Burmese. There was no English translation, but the magnitude of her words was not lost on anyone in the arena.
Burma is in a state of transition. In April, following reforms by the current government, Daw Aung San Suu Kyi and her National League for Democracy party won 43 of 45 seats in parliament. The U.S. has normalized diplomatic relations with Burma and allowed American companies to resume investing there.
"As we go forward I have been encouraged to find that the legislature in our country has begun to acquire democratic practices, democratic values and to mature from day to day," she said in concluding her brief English remarks. "I hope very much that all of you will continue to help us in our endeavors and that friendship between our two countries will grow from strength to strength."