Social Sciences
Navy Veteran Acquires Critical Statistics Skills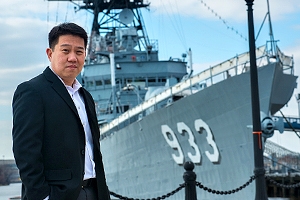 Victor Estrella never knew he had an aptitude for numbers until the U.S. Navy assigned him a position as a dispersing clerk.

Estrella was a quick study. While stationed on the aircraft carrier U.S.S. John F. Kennedy from 2004 to 2008, he served as one of the ship's accountants, providing financial services for the more than 5,000 sailors and Marines aboard the ship.
"The Navy really surprised me," he said. "There was a lot I didn't know I was good at until I enlisted."
Estrella's love of numbers and finance continued after he separated from the military five years ago. He earned a bachelor's degree in accounting through the GI Bill and then earned an MBA. He's now continuing his financial education at AU where he is a graduate student in the MS in Professional Science: Quantitative Analysis program.
In 2012, AU boasted 208 students receiving certified veterans' benefits — 119 undergrads and 89 graduate students. Most of the veterans were active duty military personnel like Estrella before coming to the university.
Life On An Aircraft Carrier
While Estrella enlisted in the Navy so that he could see the world, the sailors aboard the U.S.S. John F. Kennedy worked long hours far from loved ones. With Estrella's family still back in Manila, the day-to-day was hard, but life at sea was not without its excitement.
During his military service aboard the U.S.S. John F. Kennedy, Estrella, now 38, cruised to the Persian Gulf in support of the war in Iraq. While deployed, the ship's 80 aircraft flew more than 8,200 sorties and as a member of the JFK's fire team, Estrella had to be ready in the event of an emergency.
While he was at sea, higher education was never far from Estrella's mind.
"I also had a focus on education. It was my long-term goal," he said.
After earning his bachelor's and master's degrees at a university at Naval Air Station Jacksonville, where he was stationed after the JFK, Estrella went back to work for the Department of the Navy as a government auditor. It's his way of paying the military back, he said.
Estrella was happy with his MBA, but knew there was more he wanted to learn. So he applied to AU.
A Welcome Educational Challenge
When Estrella found out about CAS's Quantitative Analysis program through some friends, he knew it was a program that would bolster his understanding of his job and enhance his skills. But he knew working full-time and going to school would be a challenge, though not an unwelcome one.
APPLY: More information about AU Graduate Studies

"I always wanted to learn more and strengthen my quantitative analysis skills. I wanted to push it to the limit," Estrella said. "I wanted something that was going to make me sweat."
So far, he said, he's had to sweat, but that's a good thing. From his office at Washington Navy Yard, Estrella runs straight to class where he is learning concepts and skills that directly impact his work for the military.
This past semester, his statistics classes have been essential, Estrella said. In the Department of the Navy, there are 400 auditors and only two statisticians, so being able do his own statistical analysis of the service's finances is critical.
Being at AU has helped Estrella push himself, he said. And when he takes the Certified Public Accountant Exam this spring, he knows he'll be better prepared thanks to his coursework and his classmates.
"Students are so focused at AU. I've never seen anything like it at other campuses," he said. "The school is like this incubator for learning."