Journalism
Experiencing Cuba Through the Lens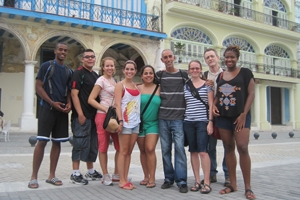 If someone told a young Efrain Ramirez that he'd study in a foreign country during college, he wouldn't have believed it.
Chances that the CAS senior would study abroad, let alone go to college, were slim given that he was the son of an undocumented Mexican immigrant growing up in New York's Spanish Harlem.
Yet Ramirez did enroll in college and did study abroad. In the fall of 2011, Ramirez and five other American University students packed their bags and flew to Havana, Cuba, for a semester in the oft-misunderstood country.
For all the students, but perhaps especially for Ramirez, the experience was life-changing. They got to see first-hand the effects of the United States' 50-year blockade of Fidel Castro's Cuba, as well as the island nation's vibrant culture, complex politics, and unique socio-economics. The students' journey is documented in Professor Bill Gentile's new documentary, Through Their Eyes.

Sinking Deep Roots in Cuba
AU has operated a study abroad program in Cuba since 2006, back when it was rare for American colleges to do so because of cumbersome regulations. But AU faculty has long had an academic interest in Cuba and students have followed suit, said Brita Doyle, an advisor for AU Abroad.
"We're privileged here at AU that we have people wanting to sustain our Cuba program," she said.
While in Cuba, students study at the prestigious Casa de las Américas, the Cuban government's premier research institution for Latin American and Caribbean scholarship. At Casa, they take classes from top Cuban professors on Cuban history and politics, culture, current social issues, as well as a Spanish language class. Most of the classes are taught in Spanish.
It's a rare opportunity to learn about Cuba from the inside. Most of what Americans know about Cuba comes not from people who live and work there now, but from the exiled Cuban community and the U.S. government's stance on the country. The AU Abroad Cuba program allows students the chance to make up their own minds.
"Who better to teach about the Cuban revolution than the people who fought in it?" Doyle said. "AU is very lucky to have a presence there."
Beginning in the fall of 2011, students studying in Cuba also had the opportunity to take a course with Gentile, an accomplished photojournalist who covered Latin America for United Press International, Newsweek, PBS, and other media outlets. Gentile is no stranger to Cuba. His wife, Esther, who edited the documentary, is Cuban and he's been documenting the ongoing U.S. conflict with Cuba since the 1970s.
Gentile, journalist in residence at the School of Communication, will be teaching his Cuba course, Photojournalism and Social Documentary again in the 2013 fall semester.
Experiencing the Real Cuba
Through his class, Gentile wanted to give his students — most of whom had no formal photography training — an insight into what life in Cuba was really like. That meant going out into real Havana, away from their hotel and school, getting to know locals, and documenting their lives through photos.
"The idea behind the class was to compel students to engage in a personal, face-to-face way," Gentile said. "We wanted them to speak the Cuban's language, to be in their space. And I think it worked very well."
Not that it was easy. Ramirez, who is slightly shy and soft-spoken, recalled being nervous about both breaking the expensive professional digital cameras that were provided for the students' use, and about trying to penetrate a culture not his own.
But Gentile eased his students into life as documentary photographers in a foreign land. He helped them see that by using a "visual language" like photography, they could see on a basic level that Cubans were not so different than them.
Over the course of the semester, he watched his students transform and it prompted him to capture their "extraordinary changes" on film.
"They went there not just to discover Cuba, but to discover themselves," Gentile said.
The film follows the students as they select the topics they want to tackle for their photography project and pursue their subjects. The students — Paul Barrett, Chelsea Crandall, Dara Jackson-Garrett, Emmalee Kinard, Cristina Khan and Ramirez — selected complex issues like self-employment, urban farming, and poverty around the capital. Ramirez trained his lens on Havana's underground hip-hop scene.
Through his time documenting a Cuban rapper trying to make it, Ramirez learned about a culture parallel to his own upbringing in Spanish Harlem. He became friends with his subject and his crew, who Ramirez said, "treated me like a brother."
The experience pushed Ramirez out of his comfort zone, but the warm acceptance allowed him to let his guard down. It also allowed him the opportunity to cultivate a creative side he didn't know he had. The sociology major said he hopes to use what he learned in Cuba to help people tell their own stories.
"It gave me a confidence boost to learn different ways of expressing myself," Ramirez said. "Bill [Gentile] inspired me to use media as a powerful storytelling tool."