Education
Your AU: Cheng to Embrace Teaching in China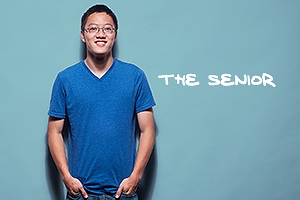 For most of Thomas Cheng's 21 years, he's felt disconnected from his Chinese heritage. Being a first generation American, he wanted to transcend his race and ethnicity.
As a result, his Mandarin skills aren't great, even though it's his parents' native language and he travels to China yearly to visit family. Since his family speaks a mix of Chinese and English at home, Cheng hasn't been forced to fully learn the language.
That will soon change when Cheng, SPA/SOC '13, moves to rural China after graduation to teach English with a program called Teach For China.
He will be thrown in the cultural and linguistic deep end and will have to improve his language skills if he wants to succeed.
"I know it's definitely not going to be a walk in the park. But I want to reconnect with my heritage," he said. "As uncomfortable as going to a new place can be, it's often the most rewarding."
YOUR AU: Junior Carla Faustino Navigates Washington Politics

If his experience at American University is any indicator, Cheng will do just fine. In his four years at the university, Cheng has taken advantage of many opportunities offered to him.
During his freshman year, he volunteered for DC Reads, worked as an AU Student Ambassador leading tours for prospective students, participated in TALK, an intercultural discussion group, and joined AU's improv troupe, Mission: Improv-able. He's performed with them for four years and has taken a leadership role in the group.
"When the auditions came around, I went by myself and said, 'Why not?'" he said.
During his time with Mission: Improv-able, Cheng has learned how to manage a budget and deal more effectively with people in the entertainment business. He performs in five to six shows on campus a year and a handful around the region. 
He's even performed at the College Improv Tournament National Championships, something he never could have anticipated doing when he was a high school student in Columbia, Md.
"I like that when it goes really well, it's the most rewarding thing. When it doesn't go well, it's a great learning experience," he said.
Improv isn't the only activity Cheng has participated in since freshman year. In the years that followed, Cheng has worked as an orientation leader, a Freshman Service Experience Coordinator, and a program associate for University College. Currently, he's a residential advisor for the Washington Semester Program. It's his way of giving back.
YOUR AU: Economic Research Drives Sophomore Jonathan Wallen

"Because I have done study abroad, I know how important it is to have those residential resources," Cheng said, explaining his decision to work for Washington Semester.
Cheng studied abroad his junior year in Copenhagen through AU Abroad and he participated in two alternative spring breaks — one in Cuba and one in Louisiana and Alabama.
 "I very much want to do everything and try everything," Cheng said. "I like being able to surprise people."
Despite his Justice, Law & Society and Public Communication double major, Cheng wants to try his hand at teaching. DC Reads is the only teaching job he's had, but he's hoping his other experiences at AU will fill in the gaps.
Cheng leaves for China in the middle of July. He's not sure yet where he will be posted — either Yunnan or Guangdong province, he thinks. He'll be placed in an elementary school to help close the education gap that has occurred over the years in rural China due to the exodus to large cities. Along the way, he'll work on his language skills and learn more about where his family comes from.
YOUR AU: 'Eye On The Eagles' Freshman Host Soars 
When he was younger, Cheng would travel to China to stay with his grandparents over the summers. They didn't speak English and he didn't speak Chinese. Communication was tough and Thomas had a difficult time connecting with his surroundings due to the language barrier.

"Now I'll be really immersing myself in Chinese culture in a way I hadn't before," he said.
The fact that he's graduating soon doesn't make him anxious since he's already secured employment for the next two years. But he will be leaving the "luxuries and comforts of D.C. and AU" for a new environment.
"It's a mixed bag" of nervousness and excitement, he said. "But I'm really looking forward to seriously having a substantive experience over there. I want to use these next two years to get a better idea of what I want to do."