On Campus
Commencement 2013: What You Need to Know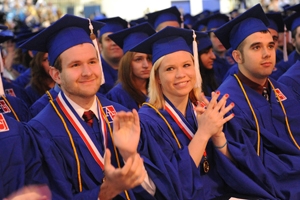 Congratulations to the Class of 2013, their families, and friends! We've created a list of all the details you need to know for this weekend's commencement ceremonies.
When: On Saturday, May 11, ceremonies include School of Public Affairs at 9 a.m., School of Communication at 1 p.m., and College of Arts & Sciences at 4:30 p.m. On Sunday, May 12, ceremonies include Kogod School of Business at 9 a.m. and School of International Service at 1 p.m. On Sunday, May 19, the Washington College of Law will hold a ceremony at 1 p.m.
Where: American University's commencement ceremonies are held in Bender Arena on campus.
Watching from home: All AU commencement ceremonies will be broadcast live on american.edu/commencement.
Guests: Tickets are not required for admittance. In keeping with D.C. Fire Code regulations, AU asks that graduating students limit their guests to seven persons each.
Seating: Doors open 45 minutes before each ceremony. Seating is on a first-come, first-serve basis. A seating section, located next to the ground-level entrance to Bender Arena, will be available for senior citizens and persons with physical disabilities and their families. Please refer to the special needs section of the commencement website for more information on seating and other assistance for mobility and hearing impaired persons.
2013 Commencement Speakers: Lisa P. Jackson (SPA), Darryl Frank (SOC), Paul Farmer (CAS), Gary Veloric (Kogod), Moises Naim (SIS), and Harold Hongju Koh (WCL). Read more about the 2013 commencement speakers.
Social Media: Join us on Twitter using hashtag #2013augrad. Also, follow AU Commencement 2013 on Facebook for all the latest news.
Where to park: We recommend that graduates and guests park in the Nebraska Avenue parking lot or the Katzen Arts Center garage, although all parking areas on campus will be open during commencement weekend (except for spaces marked "Reserved"). Those who park in the Sports Center parking garage are advised that exiting traffic will not be permitted to turn into the tunnel in front of Bender Arena following the ceremonies. Cars parked in the Sports Center parking garage or on the south side of campus will exit via Nebraska Avenue.
How to get there: The campus map indicates shuttle stops, disability parking, and drop-off points for commencement. Driving directions to AU's Bender Arena can be found online through googlemaps.com. The university will provide complimentary shuttle bus service to and from the Tenleytown-AU Metro station, which is on Metro's Red Line. Shuttle buses will run every 15 minutes from the Nebraska Avenue and south-side shuttle stops. For information on getting to campus from BWI Airport, Dulles International Airport, Reagan National Airport, and more, follow instructions provided by the Office of Campus Life.
What's not allowed inside: No large bags (backpacks, briefcases, duffel bags, etc.) will be permitted inside Bender Arena. Large signs, banners, noise makers, and other objects that hinder visibility or sound will not be allowed inside.
What should grads wear: In order to walk in a commencement ceremony you must wear a cap and gown designed especially for American University by Herff Jones. Caps and gowns must be picked up in the Campus Store on the second floor of Butler Pavilion during business hours from May 8 through May 11 and during the commencement ceremonies on May 11 and May 12.
Duration of ceremony: The ceremony is approximately two hours long and is immediately followed by a reception. Reception locations are listed in the printed program. If you are going to a restaurant after commencement, we recommend making reservations for approximately four hours after your ceremony's start. This will allow you time to attend your school's reception and return rental regalia (due by 6 p.m., Sunday, May 12). 
Diplomas: Most graduates will receive diplomas by early July. 
Photos: A selection of commencement photographs will appear on the AU website. Check the commencement website to view and download photos taken by the university photographers. Proofs of photos taken by the commercial photographer, GradImages, will be emailed to grads two weeks after the ceremony. Read more about purchasing photos and other mementos.