In the Community
New AU Students Reclaim Their Dream through Service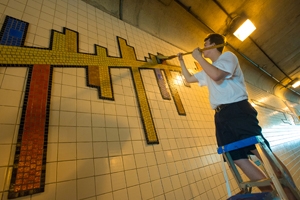 Whether students had their knees sunk in the dirt, school books planted in their hands, or raw passion burning in their hearts, the Freshman Service Experience (FSE) welcomed new American University students to an active lifestyle of community service.
For 24 years, American University and the D.C. community have partnered to grant freshmen and transfer students the unique opportunity to build relationships with individuals striving to make a difference in Washington. With the courageous endeavors of civil rights activist Martin Luther King Jr. and President John F. Kennedy in mind, this year's FSE participants completed more than 8,000 hours of service during two days.
The FSE theme, "Reclaiming Our Dream," was inspired by Martin Luther King Jr.'s words, "We often hate each other because we fear each other; we fear each other because we don't know each other; we don't know each other because we… are separated." FSE aims to combat this dilemma by empowering new students to eradicate a common and destructive problem: poverty. FSE unifies more than 550 freshmen, 30 transfer students, and 97 FSE leaders from different classes, racial backgrounds, and experiences.
Alex Karmazin, current FSE leader and former coordinator, described, "The program encourages students to defy the boundaries of their comfort zone and venture into D.C. as activists and explorers—uncovering new cultures, new issues and life-long friendships."
Students interested in public health issues paired with the Metro TeenAIDS organization and took to the streets to distribute safe sex packages and educate residents about the dangers of unprotected sex. Reflecting on her experience, freshman Morgan Grant passionately described, "The right to be healthy is something everyone deserves."
Other underclassman pulled up their sleeves in a local classroom at the CentroNia and DC Bilingual Public Charter School. There, they worked side-by-side with teachers to prepare elementary school classrooms for new and eager students.
Volunteers on the other side of the city, enthused by the fine arts, arduously worked to restore a garden at the Emergence Community Arts Collective, a fine arts center. Volunteers were amazed by the simple, but rewarding experience they had through FSE. "Even though we are cleaning and getting grungy, we are having so much fun and getting to know each other," said Aruana Murphy.
This year, the fight against poverty was spread across social media as students were encouraged to dream big and broadcast their #FSEDreams via sites such as Twitter and Instagram. Student Roslyn Glover tweeted, "Had a blast on the first full day of FSE! Nothing like cleaning sidewalks to make DC beautiful." FSE participants were excited to share their experiences and reflections with their friends and families. Ilka Vanessa shared her hopes for the FSE participants and tweeted, "My #FSEDream is for students to expand, not only their education, but their minds to new experiences for their own benefit and the benefit of our community."
After a long and productive day of community service, AU students had the opportunity to enjoy five diverse evening programs. Program speakers enlightened students on issues in the community and around the world, while promoting introspection, laughter, and fun. Topics ranged from personal reflections on homelessness to slam poetry on race and culture. Students were encouraged to discuss race and reflect on the civil rights movement 50 years later. The SpeakeasyDC presenters promoted laughter as they related with the audience. The Dance Place Step Team demonstrated amazing dance moves and gave the students a chance to show off their newly acquired skills.
The Freshman Service Experience was initiated by the thought of molding ideas into action and action into service. This simple dream transformed into a vivid reality for students volunteering to clean a mural in the Maine Avenue tunnel. As the suds dripped down the tiles, it became clear that their work did more than restore a frequented fixture. Participant Allie Vega reflected that the instructions for her group seemed mundane, but by cleaning the tiles they made art—and service—come alive. For years, the FSE program has utilized this dream of awakening a passion for service to create a movement that will echo in the lives of participants and community members.
Next fall will mark FSE's 25th anniversary.
Freshmen Chelsea Smart, Lindsay Maizland, Tariq Mohamed, Marina King, Steven Baboun, and Jaclyn Mercia—as well as FSE Leaders Tori Vogel, Evan Oliver, and Alex Karmazin—contributed to this story.