Achievements
WCL Associate Dean Receives Disability Rights Award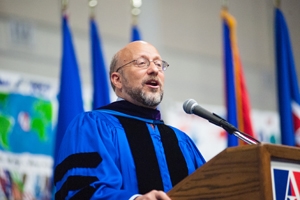 Robert Dinerstein has devoted more than 35 years of his life to being a disability rights advocate, scholar, and teacher.
In addition to being a professor, director of the clinical program, associate dean for experiential education, and director of the Disability Rights Law Clinic at Washington College of Law, Dinerstein is a recognized national leader in disability rights.
This month, Dinerstein received the American Bar Association's (ABA) Paul G. Hearne Award for Disability Rights at the organization's Annual Meeting in San Francisco. The award, selected by the ABA Commission on Disability Rights, honors the work of Paul G. Hearne, a lawyer born with connective tissue disorder who became a leader in the disability rights movement.
"The faculty at American University Washington College of Law are talented scholars and passionate teachers, dedicated to their students and bettering our world," said Claudio Grossman, dean, American University Washington College of Law. "We congratulate our distinguished faculty member Robert Dinerstein on this much-deserved honor."
Dinerstein, AU's 2013 Scholar/Teacher of the Year, delivered remarks to AU's incoming freshman class during the university's Opening Convocation on Friday, August 23 at 11 a.m. in Bender Arena. He encouraged students to take advantage of their time at AU.
"Don't be afraid to be a risk-taker," he said. "By risk-taker, I mean an intellectual risk-taker. Don't be afraid to take a class for which you aren't sure you will earn a good grade."
"YOLO [You Only Live Once] should not be an excuse to refrain from exercising good judgment," Dinerstein said, drawing loud applause from the students.
He also encouraged students to explore all areas of their new hometown, Washington, D.C.
"The university is located in a beautiful part of the city, but explore the rest," he said.
President Bill Clinton appointed Dinerstein to the President's Committee on People with Intellectual Disabilities and Dinerstein was a signatory to the International Disability Alliance's legal opinion on Article 12 of the Convention on the Rights of Persons with Disabilities. Dinerstein consulted for the World Health Organization regarding mental health law reforms in Malawi and Ghana as well as for the Open Society Foundations regarding disability rights clinics in Latin America and Africa.
As a scholar, Dinerstein has authored, coauthored, or contributed to works addressing the capacity of and autonomy for people with intellectual disabilities. He sits on the boards of directors of the Quality Trust for Individuals with Disabilities, the Equal Rights Center, the Washington Legal Clinic for the Homeless, and Advocates for Justice and Education. In the past, he has served on the boards of Disability Rights International and the Maryland Disability Law Center.
His work in the Disability Rights Law Clinic—which he founded and has directed since 2005—is consistently met with his students' high praise, as is his teaching in seminars and courses.
Dinerstein is a sought-after speaker and lecturer, as well as an expert often quoted by print and electronic media. In February 2013, he commented on mental illness and mass violence in the PBS documentary "Path to Violence," part of a series of programs that aired during the aftermath of the Newtown tragedy.