Environment
Heating Up for the Solar Decathlon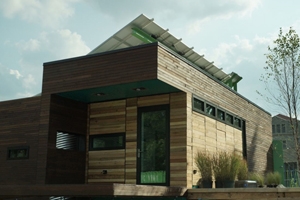 Imagine a typical home 30 years into the future. What will it look like? How will it be designed? No one can know for sure, but the new HARVEST HOME gives us a potential glimpse.
The HARVEST HOME is a net-zero energy emitter, devised to generate as much energy as the home consumes. It's a project by Team Capitol DC—comprised of students and faculty mentors from American University, The Catholic University of America, and The George Washington University—and it was unveiled on Tuesday, August 27, on the Catholic University campus. The house will soon be disassembled and loaded onto trucks for a cross-country excursion to Irvine, Calif., for the U.S. Department of Energy Solar Decathlon, a sustainable home competition that includes 20 collegiate teams.
After the contest, Team Capitol DC will donate the house to the nonprofit Wounded Warrior Homes, and a U.S. military veteran who served in combat will live in the home. "It's very inspiring to work with students who are deeply passionate about a project. It doesn't happen in every classroom experience," says American University public communication professor Caty Borum Chattoo, a faculty adviser for Team Capitol DC.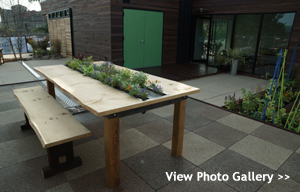 HARVEST HOME was a herculean effort involving more than 100 students and faculty advisers, including engineers, architects, interior designers, filmmakers, and communications specialists. Several students said coordination among such a large, diverse group was a tall order. Lauren McCarty, who recently earned her master's degree in public communication from AU and worked on the project, opined that "it also makes the team a little bit better because you pull in all of these people with different skills."
American University handled the operation's communications component, which is one of the categories that HARVEST HOME will be judged on at the Solar Decathlon. This included revamping the Team Capitol DC website, filming of the construction, blogging, media outreach, and social media promotion. In addition, the team utilized a YouTube channel for web videos. AU's partners included architecture students from Catholic University and engineering, landscape and interior design students from George Washington University. "With documentary film in particular, you get to be immersed in someone else's world," says Alexandra Ruperti, an AU film and electronic media graduate student who worked on the project last semester.
Several AU community members described personal reasons for taking an interest in HARVEST HOME. Faculty adviser Larry Engel, a School of Communication professor and filmmaker, was already eco-conscious, serving as associate director of the Center for Environmental Filmmaking and a co-author of the Code of Best Practices in Sustainable Filmmaking. Borum Chattoo, whose father was in the Air Force and whose husband was a Marine, was heartened to see young students support a veteran returning from a conflict zone. McCarty comes from a family of engineers, a pedigree that helped her understand and translate some of the technical jargon. Kelsey Marsh was formerly a Peace Corps volunteer in Lesotho, Africa, where she dealt with sustainability issues. "Having the two worlds collide, it made perfect sense for me to be a part of the project," says Marsh, now an AU graduate student in film and electronic media.
Relying on a solar thermal system, the HARVEST HOME features a flat plate collector to heat the hot water supply. The roof is designed to send rainwater into a rainwater barrel, which will then be used to irrigate the surrounding landscape. Many of the materials were harvested from buildings set to be demolished, and the house flooring was taken from a 19th century church. The home has a luxury bathroom and private bedroom, both of which are compliant with the Americans with Disabilities Act. HARVEST HOME also uses comforting design features to provide a healing environment for the returning veteran.
Win or lose at the decathlon, students and faculty already express a sense of accomplishment. "Going from rendering to reality, and seeing that the reality is so close to the rendering, it's astounding what these kids and the faculties have done," Engel says. And there is more work to be done. "I think that the most important filming is yet to come, and it will be when the first occupant sees the house," he says.