In Remembrance
Remembering JFK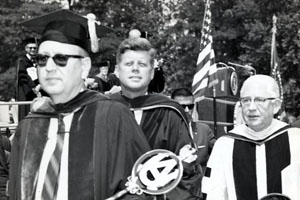 Friday, November 22, marks the 50th anniversary of the assassination of President John F. Kennedy.
The tragedy rocked the nation, as well as American University where only five months earlier, JFK had delivered "A Strategy of Peace" as AU's 1963 commencement address.
Below, see the Saturday, November 23, 1963, issue of The Eagle chronicling the emotional reaction of students, faculty, and staff as the campus—and the nation—grieved.
For a larger view of this issue of The Eagle and to read AU president Hurst R. Anderson's address at the December 4, 1963, AU memorial for JFK—as well as see other historic American University JFK-related documents—go to american.edu/jfk and access "Documents."
Go to the "News" section of american.edu/jfk and access the story "Watching History Unfold" to learn what journalists Bob Schieffer, Jim Lehrer, Sid Davis, and Marianne Means said about covering the tragedy from Dallas during a recent panel moderated by AU professor Gilbert Klein.