Television & Film
Inside the Salad Bowl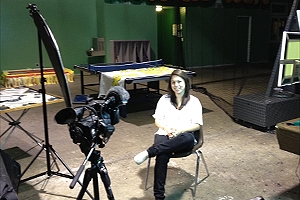 In the trailer for her new film The Salinas Project, American University professor Carolyn Brown includes an observation from Salinas, California's most famous former resident, John Steinbeck. "I wonder how many people I've looked at all my life and never seen," he wrote in The Winter of Our Discontent. Brown says Steinbeck wasn't alone. Few Americans know the real story of Salinas, and Brown gives voice to the resilient agricultural community in her upcoming documentary.
In early April, Brown will premiere The Salinas Project at the Latino Film Festival and Conference at Indiana University. Notable scholars and filmmakers will attend, including actor and director Edward James Olmos.
Watch the trailer for The Salinas Project.

Beyond the Stereotypes
In the film, Brown features four children from immigrant farm working families. Sometimes called "the Salad Bowl of the World," the Salinas Valley produces most of the nation's lettuce, broccoli, and artichokes. "We eat food every day that comes from the Salinas Valley. But do we know anything about the people that support our economy and our food supply? Or their children?" she asks.
She primarily focuses on the east Salinas neighborhood of Alisal. It's more than 90 percent Latino, with a per capita annual income under $12,000. Housing conditions are a major problem, and two of the girls in the film have spent time living in garages. Yet these young people have managed to survive and thrive in the face of enormous adversity.
Brown says the media has propagated negative stereotypes about Salinas, with local coverage zeroing in on gang violence. In The Salinas Project, she hopes to present a fuller, more nuanced picture of the area.
"I really wanted to give an oppositional representation," she explains. "I want this to be a realistic portrayal. While recognizing that it is a community that has problems with gang violence and delinquency and teen pregnancy and all the things that come with that, it's not everybody. There are kids that have that as a real part of their lives. And yet, they're educating themselves and surviving and going to college."
Speaking their Language
Despite its high poverty rates, Brown notes that Salinas is only an hour drive from wealthy Silicon Valley and about 15 minutes away from the luxurious Pebble Beach golf course. The plight of this immigrant community could make it impenetrable, but Brown developed a rapport with the residents while filming. "I tell this to my students all the time. The best way to gain people's trust so they can tell you about their lives is to have empathy towards them," she says.  
She was also able to draw on her own background. "The stories are very close to me. My mom was an immigrant from South America. So that's also why representations of Latinos are important to me, because they're representing me and my family as well," she says. "So people pick up on that right away and don't consider me an outsider."
Brown grew up near San Jose and she remembers the media stereotypes of a gang-ridden Salinas. But while in college, she had family members move to Salinas and she familiarized herself with the community.
Brown has extensive experience in broadcast journalism, and she's now a professor in the Journalism Department of AU's School of Communication. The people featured in The Salinas Project are roughly the same age as most AU students, she points out. "So they're telling stories that might be common to a lot of students at AU at this point."
A Timely Topic
The subject of Latino immigration is a timely one. Congress is currently debating an immigration reform package, and both political parties are heavily courting votes from the fast-growing Hispanic population. The migrant farm worker experience will be explored in a major motion picture later this month. Cesar Chavez, a biopic about the legendary California labor activist, stars Michael Peña, Rosario Dawson, and John Malkovich.
Brown also examined immigration in her two previous films. On the Line looked at Minutemen and the anti-immigration movement in Arizona, while From the Fields: An American Journey is a biography of a Chicano journalist and successful NBC reporter who worked in the Salinas Valley fields as a child.
With its pertinent topic, From the Fields got a special screening on Capitol Hill, and Brown hopes The Salinas Project will also be part of the immigration conversation.
"It gives a human side to the people that are going to be affected by immigration reform," she says. "It's really easy to talk about immigrants as if they're not human. When you see what they're doing and how they're contributing, it makes you think twice."