Athletics
AU Shines in Classroom and on Court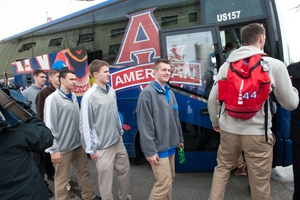 The American University Eagles are scholar athletes: while winning numbers on the scoreboard are important, academics come first.
And it shows according to data collected and publicly reported by the NCAA.
According to data available on NCAA.org, AU's current student athlete Graduation Success Rate (GSR) shows that 95 percent of AU's scholar athletes earn a degree. Comparatively, the most recent national average GSR for Division I schools is 82 percent.
The GSR data are based on a six-year cohort (student athletes awarded athletic-related financial aid who earn a degree within six years of first enrolling in college) prescribed by the U.S. Department of Education. The current GSRs are based on students who first enrolled in college in 2006.
For AU's men's and women's basketball teams, the current GSRs are 93 and 100 percent, respectively. These are based on cohorts of students who enrolled at AU between 2003 and 2006.
But AU's GSRs aren't the only academic measures by which AU's scholar athletes stand out. The NCAA also collects data from Division I schools and colleges to calculate each school's and sport's Academic Progress Rate (APR), a team-based metric that accounts for the academic eligibility and retention of each student athlete, each term.
The APR is based on an average calculated from data collected by an institution during four academic years. The most recent APR Public Reports—issued June 9, 2013—are based on data reported by each Division I institution to the NCAA for the 2008-2009, 2009-2010, 2010-2011, and 2011-2012 academic years.
The APR for the American University men's basketball team during this time is 980, which is above the national overall four-year APR average of 974 and well above the national APR four-year men's basketball average of 952.
When limited to the 2011-2012 academic year, the AU men's basketball team's APR soars to 1,000.
Additionally, the NCAA honored the AU men's basketball team with an APR Public Recognition Award during the 2008-2009 academic year. The annual award recognizes teams earning multiyear APRs in the top 10 percent of all teams in a given sport.