Government & Politics
An Indelible Mark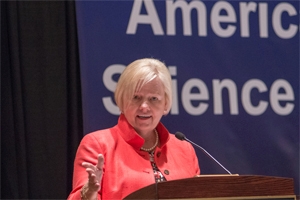 School of Public Affairs Dean Barbara Romzek has had a distinguished career in academia. As a thinker, scholar, administrator, and dean, Romzek has made an indelible mark on public affairs in higher education. For her lifetime achievement in public administration and political science, she just accepted the 2014 John Gaus Award from the American Political Science Association (APSA). At the APSA annual meeting in Washington, D.C. on Friday, August 29, Romzek gave the 29th John Gaus Distinguished Lecture.
Accountability
During her speech, Romzek focused on accountability in public affairs, a vital issue that pervades almost every facet of our public discourse, and the topic to which she has devoted much of her academic research. The typical scandal—such as the recent VA imbroglio—inevitably results in accusatory finger pointing. But after outraged members of Congress hold hearings and op-ed writers offer scathing rebukes, reforms often don't end up fixing the problem—because the issues are so complex.
"Accountability isn't a puzzle to be solved," Romzek says in an interview. "But it can be managed better. And we, as academics, can help improve that management by applying our knowledge in ways that contribute to a healthier political system."
"We as scholars are very good at doing the research, but we now need to take our knowledge and contribute to public engagement and civic discourse in a manner that helps improve the world we live in," Romzek said in her speech. "Extending our expertise into the realm of practice is a responsibility we should embrace. That is, after all, the distinctive marker of public administration as a field."
Breakthrough Research
Growing up in Michigan, Romzek was a curious child who always had a book in her hand. She later earned her Ph.D. in political science at the University of Texas at Austin. She took her first job out of graduate school at the University of Kansas, where she remained for more than three decades. One experience in the early 1980s had a profound impact on Romzek's academic career. A city manager received an award from the regional chapter of the American Society for Public Administration. That same day, he was fired.
Romzek viewed the incident as a useful puzzle in understanding accountability and governance. "How can someone so quickly fall from grace? He's getting an award from his professional colleagues saying, 'Great Job!' And at the same time, the elected officials who employ him said, 'You're outta here!'" Romzek and colleague Melvin Dubnick researched this phenomenon and concluded it was a matter of different performance expectations and multiple layers of accountability. Professional co-workers wanted best practices, while elected officials facing the voters were concerned about political responsiveness.
Later research resulted in a seminal paper with Dubnick, "Accountability in the Public Sector: Lessons from the Challenger Tragedy," which was cited as one of the 75 most influential articles in the entire history of the journal Public Administration Review. Romzek's research has explored the challenges of both formal and informal accountability in a variety of venues, including congressional staff, the U.S. Air Force, government contractors, and networks of service providers.
Vision for the Future
Romzek joined SPA as dean in 2012. She is excited about the quality of research and teaching in the school. "We have a really strong faculty. We attract extraordinarily talented, ambitious, hard-working students. This combination is the foundation of our exceptional school," she says.
The Journal of Public Affairs Education recently ranked SPA 5th in the world and 1st in the Washington D.C. area for institutional impact on research in the field of public administration.
Romzek is the third SPA scholar to win the prestigious Gaus award, as Robert Durant (2013) and David Rosenbloom (2001) were also honored.
Romzek plans to build on SPA's record of success. The school has three departments: Government; Justice, Law & Criminology; and Public Administration & Policy. "We're looking at concentrating across departments to create clusters of expertise," she says. There are at least three policy areas—national security, health care, and metropolitan/urban affairs—that are ripe for collaboration, she adds. In national security, SPA offers a new master's degree in terrorism and homeland security policy. A new SPA associate professor, Derek Hyra, will help launch SPA's Metropolitan Policy Center.
Like the call to action in her speech, Romzek envisions faculty members translating their exceptional research scholarship into language that policymakers and the general public can easily understand. "The faculty does a fabulous job, and the rankings show that we publish in the best journals," she says. "I envision us being more engaged in policy circles. So the goal is really to extend our outreach beyond academics."
Explaining the Mission
Despite passionate criticism of government, Romzek remains a believer in government and public service. The energy and enthusiasm of AU's politically-minded students reminds her that the future role of government is in the hands of its engaged citizens. "Working at a School of Public Affairs in the nation's capital, communicating the merits of government is one of our paramount tasks. Even with all of the government reforms and contracting out, what I tell students is that the purposes of government are still being served. It's just now we've got the private sector doing this work. So we contract with the private sector to provide security services, or social services," she says.
Romzek encourages students to explore jobs not just in the executive and legislative branches, but also with contractors and nongovernmental organizations. It's a broader conception of public service, drawn from her lifelong commitment to research and education.