On Campus
Ready to Launch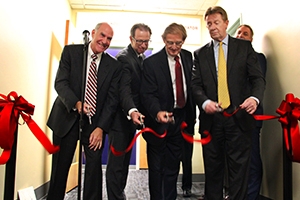 The Kogod School of Business recently launched a new Sustainable Entrepreneurship and Innovation Initiative. It's a way to cultivate entrepreneurial minds and ventures dedicated to economic, environmental, and social progress. A key component of this initiative is the new Entrepreneurship Incubator in Mary Graydon Center. To celebrate the Incubator's official launch, there was a ribbon cutting in late September with AU President Neil Kerwin, Provost Scott Bass, Kogod Dean Erran Carmel, and AU alum Mark Bucher, a restaurateur who helped finance the remodeling of the Incubator space.
American University has a variety of great programs for budding entrepreneurs, and this new initiative reflects a campus-wide commitment to innovation.
Kogod and the New Initiative
In an interview, Kogod Professor Stevan Holmberg details the evolution of entrepreneurship education at AU. The business school had its first entrepreneurship course in 1987, with many more courses added in the decades since. By 2012, the School of Communication and Kogod forged a partnership with a master's program in media entrepreneurship. In 2013, AU schools (Kogod, SIS, and SOC) announced a strategic partnership with 1776, a startup hub in downtown D.C. Kogod offers an entrepreneurship MBA concentration, and it recently added a minor in entrepreneurship for non-business majors.
AU's curriculum on entrepreneurship is already experiential, with students practicing business pitches. But there was room to do more through this new initiative.
"We were looking to expand the student learning experience by moving even further down the road towards having students actually live entrepreneurship and create new ventures," says Holmberg, director of the Sustainable Entrepreneurship and Innovation Initiative. He also says that AU students—typically passionate, with the desire to enact change—gravitate towards entrepreneurship. "It can be a business venture, or it can be entrepreneurship in terms of a nonprofit or social venture," he explains.
Kogod's Tommy White and Bill Bellows are co-directors of the nascent Incubator. Student teams trying to devise their own startups submit applications for an initial review, and White and Bellows will provide feedback for all applicants. Teams with more fully developed startup proposals will then present to a larger panel. Selected teams would have access to working space, a faculty coach, an outside mentor, and legal assistance. Through an entrepreneurship fund, AU faculty and business advisers will help students explore opportunities for seed capital and other sources of revenue.
"It's great that we are getting a mix of applications from all the different schools, since the purpose is to make the Incubator an American University initiative," says White.
AU is an ideal setting for cross-unit collaboration on a multifaceted subject like entrepreneurship. "It allows you to tap into multiple skill sets around the university," Holmberg says. "So if we have a team doing a technology app, they could go to somebody in computer science for help with coding. Or they could go to somebody in film who might be doing video clips or documentaries."
AU Pipeline
Young student entrepreneurs have received crucial guidance from professors in the past. While earning his MBA here, Tommy White took an entrepreneurship course on managing small and growing businesses taught by Kogod Professor Barbara Bird. "I just loved it, and it was exactly what I needed. I was in the middle of my startup, called the Institute for Public-Private Partnerships," he says. The business succeeded and was sold to the infrastructure services firm Tetra Tech in 2008. Now he's a full-time AU faculty member in Kogod's Management Department.
Media Entrepreneurship
At the School of Communication, Amy Eisman discusses her role as director of the MA program in media entrepreneurship. "It is the intersection of media and business," she says. "This is media defined broadly—it can be entertainment, sports; it can be an app."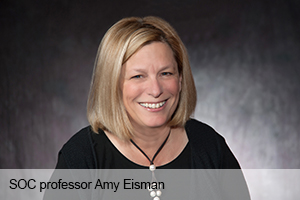 Since media companies are struggling mightily to navigate the current economic landscape, the startup culture in Washington, D.C. has exploded, she says. This makes the program attractive to mid-career professionals, who take classes in both SOC and Kogod.
"What we learned is that a lot of entrepreneurs are actually serial entrepreneurs. So they really like the game. They like to try new things," she says. The projects in this program have run the gamut, with one student establishing an Indonesian cooking website and another student creating DeafTV.com.
Eisman explains the philosophy faculty members convey to students. "Let's try, rather than think it's not going to work. And let's be able to change up if something is not working," she says. "We're perfectly fine if somebody discards an idea. That means the student has learned something."
Social Enterprise
Robert Tomasko heads the social enterprise MA program at the School of International Service. Started in 2011, the program merges management with the study of social change and innovation. He says about half the students in the program have business backgrounds, while the other half are liberal arts-oriented. "Each of them comes to the program wanting to know what the other side knows. And there's a lot of sharing."
At the beginning of the SIS program, student pairs take a "plunge" by getting assigned to help a D.C.-based nonprofit or social enterprise. They're tasked with helping this organization solve a pressing problem. Some organizations keep coming back each year to work with SIS students, he says.
Social enterprise is now an emerging sector of the economy. Tomasko says frustration with both the public and private sectors led to greater interest in the nonprofit world. "But there are issues with nonprofits, too. Many people flee to that sector because they don't want anything to do with money. But if you talk to people who work at nonprofits, they spend all their time raising money," he says. "With those three areas of discontent, I think social enterprise is offering students a way to pick some of the best from each of the sectors to try to remedy the problems."
The Entrepreneurial Spirit
If you've plowed through the Steve Jobs biography or watched re-runs of Shark Tank, you might get an itch to start a business. But what makes somebody go the extra mile to actually do it?
Barbara Bird has studied entrepreneurial behavior, and she identifies certain attributes most entrepreneurs possess. "You can't start a business if you don't have high energy level, and if you don't have a certain tolerance for risk. And it really isn't even necessarily just tolerance of risk, it's tolerance of ambiguity."

Thomas Kohn argues that while the risk is undeniable, it's a personal investment worth making. "I've mentioned to students that, in my opinion, there's not as much risk associated with startups as some of them think there is. Right out of school, you can make almost as much in salary as you can with a big company," says Kohn, an executive-in-residence in the Management Department. "Once you are an owner of a company—even if it's just stock options—you feel totally different. You have a lot more incentive to work hard and to care."
White adds that while entrepreneurship may not be innate to some students, it can certainly be taught. "Someone may really be a good idea person. But you might need someone to help shape that, manage that, and execute that," he says.
And the goal of making money is within reach. "I do believe that entrepreneurship is one of the most likely pathways to wealth," Bird says. "True ability to rise above the social and economic status you were born into is likely to come from starting a business."
Brave New World
Advances in technology have made becoming an entrepreneur much easier. You don't need to make huge capital investments and, say, open up a factory. You can run a profitable company with one laptop.
"I wish I had these tools 25 years ago when I was starting my company. It was expensive to start companies then," White says. Now, he says, you have many different modes of communication, analytics, and social media tools to understand the marketplace and identify potential customers.
But as several professors warn, lower barriers to entry equals a lot more competition. "There are a lot of companies that won't make it," Kohn says. "But fortunately in this country having a failure—or two or three—under your belt is almost a badge of honor. It's not a negative. And you learn a lot."