Arts
Rare Showing of Diebenkorn Works Among Late Fall Exhibits at AU Museum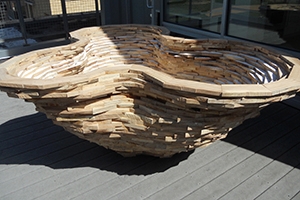 Late fall exhibits at the American University Museum at the Katzen Arts Center open Nov. 8 and close Dec. 14.  
The Intimate Diebenkorn: Works on Paper 1949-1992 features more than 40 works by American painter Richard Diebenkorn, whose early work is associated with Abstract expressionism and the Bay Area Figurative Movement of the 1950s and 1960s. In what is the first show produced by the Diebenkorn Foundation, with AU its second museum stop in the country, the selected works —pencil and ink drawings on paper, collages of town paper, and watercolors —portray a richly intimate glimpse into the artist's evolution spanning more than 40 years. According to Museum Director and Curator Jack Rasmussen, "To see these intimate Diebenkorn drawings is to understand the core artistic values taught by AU's Art Department in the 50s, 60s, and 70s."
Prague, The City of Eugenic Minds, is made up of a documentary by Pavel Stingl, animations and paintings by Xénia Hoffmeisterová, and literary artwork by Patrik Ouředník. The show strives to offer timeless meditation upon the abuse of the human pinnacles of science and education. Secondly, it addresses the question of academic careerism, which under totalitarian regimes reaches self-destructive proportions. The exhibit was coordinated by Czech NGO Shoah Memorial Prague.
Sculpture Now 2014: WSG 30th Anniversary is a celebration of the Washington Sculpture Group's 30th anniversary. The notion of sculpture has evolved dramatically in the last 30 years. In 1978, the art theorist Rosalind Krauss declared that sculpture as a discipline had collapsed because of the wide range of practices. More recently Johanna Burton remarked that the category of sculpture had not collapsed but was rather "a state of being." This exhibition endeavors to respond to Krauss and Burton's speculations and prejudices with a selection of contemporary sculpture that highlights the vibrant state of sculpture today. Sculptural materials include steel, bronze, wood, stone, plastic, drywall, fabric, and more. The show is curated by Jack Rasmussen.
My Oyster #7: Michelle Grabner & Brad Killam is a collaboration of husband and wife Michelle Grabner and Brad Killam. For their My Oyster series, Grabner and Killam employ a large hanging support system to display a selection of their works. The project includes other artifacts that demonstrate their familial relationship to a life of art, including sculptures, working drawings, and other material. Grabner received the prestigious honor of having served as one of the curators for last year's Whitney Biennial in New York. The show was organized by AU art professor Tim Doud.
Ad Infinitum brings together the work of Clifford Borress, Ian Pedigo, and Letha Wilson, all asked to create new, site-specific works for this exhibition. Each artist will explore the relationship between form and context to investigate the possibilities of meaning embedded within aesthetic experience. They explore the space between discursive research-based practice and formal or heuristic approaches to installation, exhibition, and display of ideas. This exhibition was curated by Lauren Rice and Brian Barr.
Lay of the Land: Alan Sonfist & Karin F. Giusti. In 1965, Alan Sonfist began to create Time Landscape, a work of art that magically brought to life a primeval forest that once had what is now Manhattan. On the 50th anniversary of Time Landscape, Alan presents Surface Memory, paying homage to his original masterpiece and continuing to elucidate his childhood memories of the destroyed forest of his youth. Karin Giusti's Three Seasons at Black Forest Farm is a monumental, six-component installation utilizing sculpture and photography to meld both environment and time into a singular experience. Void of figures, except the artist's shadow, these photographs appear as kaleidoscopic membranes that embed love and loss into the context of an environmental, photographic experience.