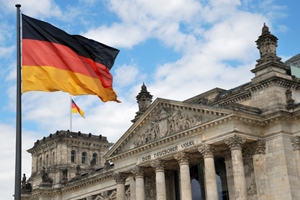 In the introduction to his new book, American University professor Stephen Silvia describes how from the mid-1990s to the mid-2000s Germany was generally considered the economic "sick man" of Europe. Yet only a few years later, Germany was praised for withstanding the global financial crisis. What to make of an economy that oscillates between poster child for both success and failure?
In Holding the Shop Together: German Industrial Relations in the Postwar Era, Silvia attempts to answer some of these questions—exploring both the strengths and weaknesses of the German economy. By examining the nation's industrial relations system, Silvia finds much to admire in Deutschland. This distinctly German structure is in some ways markedly different from the United States, but it certainly has its own merits.
"The German system involves more participation. And it has institutional structures that mean that labor and management and the government have to talk to each other a lot more," Silvia says in an interview.
Industrial Relations in Germany
The industrial relations system—how employer-employee relationships are managed—has traditionally held a prominent place in the German economy. "Industrial relations institutions extend into the boardrooms, workplaces, and government to a degree that is unimaginable in most other countries," Silvia writes in his book.
Similar to the U.S., union membership in Germany has dropped significantly over the past 30 years, but employers associations have preserved the importance of collective bargaining. About 60 percent of the German labor force works for companies that belong to an employers association, which are comprised of member firms. These associations are heavily involved in steering the German economy by negotiating sector wage agreements for the member firms. This creates an environment where many stakeholders are involved in the economic decision-making process.
The uniquely German practice of "codetermination" includes elected employee "works councils" and employee representation on the supervisory boards of larger companies. "The German companies practice shared governance in a way that American companies do not. It doesn't mean that workers run the show, but it means that consultation is built in," Silvia says.
Hot Dogs and Bratwursts
The management of the American economy is now ensnared in partisan warfare between Democrats and Republicans. "Even when U.S. union and business leaders agree on something—for example, immigration reform—the sharp divides in Congress has stymied any progress," Silvia says.
While Germany still has its fair share of political skirmishes, the legacy of World War II substantially altered the German approach to governance. "Germany did have a period of dysfunctional government, and it ended with the Nazis taking power. That legacy is still something that tempers German politics," Silvia explains.
He's found that business-labor relations are also much less confrontational. "Even though you do have strikes and you have conflicts and you have sharp disagreements, the idea that labor and management are partners is a strong ethos in Germany," he says. "In the U.S, I don't think most business people see trade unions as partners, and vice versa."
During the course of his research, Silvia has been particularly surprised by how German labor unions are intrinsically different from American ones. While U.S. labor organizations remain skeptical of globalization and oppose most free trade agreements, German labor has reason to support such policies. In Germany, he says, unionization is strongest in the export sectors, such as automobiles and mechanical engineering products.
Discovering Germany
Silvia often visits Frankfurt and Berlin, though he's traveled all over Germany. At the end of the Cold War, he wrote about the economic implications of German unification. In more recent years, he's written about the Euro and its impact on European labor markets. His next book will take a broader look at the German economy.
A Buffalo, N.Y. native, Silvia has been teaching at AU since 1990. He's currently associate professor in the School of International Service and affiliate associate professor in the Economics Department in the College of Arts and Sciences.
Many of these same German economic issues initially fascinated Silvia as a doctoral student in the 1980s. "I became interested in this different way of organizing a capitalist economy. It seemed to have more voice, and less inequality."