Television & Film
War in the Reel World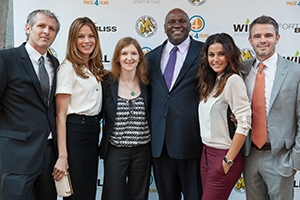 A Script to Believe In
While attending American University's School of Communication for graduate school, Mike Hardy took a course on screenwriting. Yet this educational experience extended far beyond the boundaries of one classroom. Before he knew it, he was dealing with Hollywood actors and working on a critically-acclaimed motion picture.
So, how did this happen? Hardy's professor, Claudia Myers, was preparing to direct a film about an Army medic returning from Afghanistan and reconnecting with her son. This was familiar subject matter to Hardy, who had a long military career. He approached Myers, and she would later recruit him to work on her movie, Fort Bliss.
Hardy had a number of responsibilities on the film. He read through parts of the script to make sure it accurately depicted the military. He helped Myers gain access to military equipment and filming locations by working with the Army's liaison office in Hollywood. Hardy, who had previously dealt with that office, remembers calling to make his pitch. "I said, 'Here's a script. And I'm not giving it to you just because,'" he recalls. "'I'm giving it to you because I believe in it. It's a great script. You guys need to look at it.'"
Hardy also got heavily involved in fundraising for the film. And while on location, he was a driver for the movie's star, Michelle Monaghan. He later took part in some of the opening festivities when the movie ran at the West End Cinema in Washington, D.C. At one of those screenings, he met the evening's surprise guest, Secretary of Defense Chuck Hagel.
An Army Life
Fort Bliss explores the human side of war for military service members and their families. Hardy could certainly relate, as the U.S. Army has influenced almost every aspect of his life. His Vietnam vet-father was a career Army sergeant, with Mike Hardy living the military brat life in California, Japan, Germany, and other places. He has an early, harrowing memory of coming home from school one day to see a hearse—which he feared was for his father—parked outside his house. (It turned out to be a false alarm, and he says a neighbor was using it.)
Hardy eventually enlisted, serving 24 years in the Army and rising to the level of lieutenant colonel. He's served in a number of conflict areas: Somalia, the Balkans, Iraq, and Afghanistan.
On overseas assignments, he's seen how societies get all too accustomed to violence and death. During one potential standoff in Mogadishu, with Americans on one side and the enemy facing them, a man appeared out of nowhere in beach clothes. "In between us walks this super tall Somali, wearing a scuba mask and flip- flops, and just kind of like whistling. He was so oblivious to the fact that he's walking in between this thing," Hardy recounts.
Yet back in the U.S., civilians are less acquainted with wartime atrocities. This makes getting re-acclimated to American life an arduous process for many veterans. "When you first get back, for most of my peers, it's alien to be here. To be able to walk into a store and get coffee and not have the idea that, 'Let me see who around here is wearing a suicide vest.' And the fact that life goes on," he says. Hardy says that, over time, it's gotten easier for him to return from war zones. "The first time I went to combat, when I came back to the U.S., any noise I had to react to and I had to watch just to make sure it wasn't a threat," he says. "This time coming back I wasn't so hyper-alert. It was just strange to be in a society that's not necessarily paying attention to the war."
For the occasion of Veterans Day this week, Americans will honor men and women for their military service. Yet for a country with no draft and a noticeable civilian-soldier divide, does clapping at a sporting event during "God Bless America" really suffice? Hardy definitely appreciates the support from the broader public. "When someone says, 'Thank you for your service,' in my mind I hear, 'Thank you for your sacrifice.'"
Building His Portfolio
Hardy's involvement with Fort Bliss should help his career. Claudia Myers's movie has garnered rave reviews and currently holds an 80% favorability rating on the website Rotten Tomatoes. The Washington Post wrote that "Fort Bliss joins Coming Home and The Best Years of Our Lives as a movie deeply in sync, not just with the military characters it depicts, but also with the civilian world that awaits them with such confoundingly mixed messages." The Philadelphia Inquirer gave it 3 ½ out of 4 stars, writing that it "addresses big issues, in ways that are never simplistic or dogmatic." The Los Angeles Times described it as an "unflinching and complex character study" and a "vividly drawn psychological profile."
Over the weekend, Fort Bliss won the Peer Gold-Independent Feature award and the Best of D.C. award from the Television, Internet & Video Association of D.C.
Hardy got invaluable experience on this movie and was credited as associate producer. Hardy earned his master's degree in producing film and video from AU in 2012. Earlier in his career, he did film production at the U.S. Army War College in Carlisle, Pa. Hardy was recently spotlighted by the District of Columbia Office of Motion Picture and Television Development as October Filmmaker of the Month. These days, he's picking up freelance video projects and hoping to build up his portfolio. What's the ultimate goal? Make his own Hollywood military movie someday.