Research
The Outbreak and the Aftermath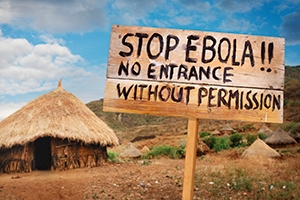 An Interdisciplinary Approach
Ebola fears may have subsided in the United States, but the deadly virus is still ravaging West Africa. American University professors have formed an interdisciplinary group to study the ramifications of Ebola. The Ebola Research and Action Working Group includes Susan Shepler, Thespina (Nina) Yamanis, Maria De Jesus, Rachel Robinson, and Daniel Esser from the School of International Service; Kim Blankenship, a sociology professor from the College of Arts and Sciences; and Jeremy Shiffman and Erdal Tekin in the School of Public Affairs.
"This is a really ad hoc working group that we've put together, mostly in response to this crisis," says Shepler. "And we all have different questions related to the outbreak. Some are more short term, asking 'How can we be of assistance to those on the ground?' And some faculty members are looking at more long term social science questions about the impact of Ebola on this region. Others are interested in the politics, the economics."
Shepler and Yamanis have already started collaborating. Shepler is an anthropologist with 26 years of experience working on Sierra Leone, a country hit hard by this epidemic. Yamanis has a background in public health, specifically how behavior change can influence the spread of infectious diseases.
"Anthropology sort of takes a long time, and we write long treatises about culture. And it was really exciting to think about ways that I could work with people in public health like Nina, folks who are doing things so much faster and with more immediate impact," Shepler says.
"There's a real need for anthropologists like Susan, who have an in-depth knowledge of Sierra Leone and its people, to work on Ebola prevention," Yamanis adds.
Confronting Ebola
The American news media and the public are less concerned with Ebola these days. Most experts believe an outbreak in the U.S. is highly unlikely. Yet the AU Ebola working group emphasizes the need to help people suffering in other parts of the world. More than 5,000 people have died in West Africa from Ebola. The average person in the region contracting the virus has about a 70 percent chance of dying. So, in many ways, this is still a dire situation.
"There was too much reaction to what was going on in the U.S., and I still feel not enough reaction to what's going on in West Africa. So the balance has been off," Shepler says.
Yamanis and Shepler identify major challenges facing West African countries dealing with the virus. Health care systems in the region are weak. And these inadequacies are exacerbated in countries recovering from war, such as Sierra Leone and Liberia. Pervasive mistrust of public officials led many West Africans to initially doubt the outbreak's existence.
"There's also a lack of basic materials. Now that people are in emergency mode, and understand that it's real, they don't have some of the simple things like soap, like chlorine bleach, like gloves," Shepler explains.
Communication networks and transportation systems are also severely lacking. Yamanis says a friend of hers at the Centers for Disease Control and Prevention had to use a canoe to reach one of the villages. (This anecdote was mentioned in October by President Obama.)
Acting Locally, Acting Globally
Jeremy Shiffman conducts research on the politics of health policy in low-income countries. He talks about the impetus to bolster local health care systems dealing with Ebola. 
"In this case, the international community needed to respond, and it responded late, unfortunately," he says. "I think the deeper issue in the future is really finding ways to strengthen the health systems of potentially affected countries, so that the primary response can come from within the country. Some countries affected by Ebola are able to contain it with little international support, and that's what you want to happen."
While people might now assume Ebola can be confined to West Africa, Yamanis says there's a collective incentive to combat it. "The longer the crisis continues in those countries, the more at risk we are. This is a globalized world. So it is also related to our personal security," Yamanis says. "That's why we send the CDC. It's because we realize that epidemics are transnational."
And Yamanis also argues this is an opportunity for the U.S. to help the developing world. "We do public health really well in this country, and I think our ability to export that and sustain it abroad leads to goodwill."