Technology
The Digital Experience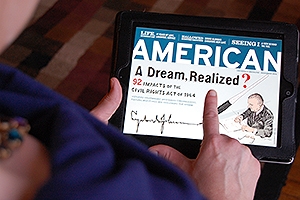 When you open American magazine's new app on your iPad, you'll see a visually arresting image. As part of the cover story on the impacts of the 1964 Civil Rights Act, there's an animated simulation of President Lyndon Johnson's pen signing the landmark bill into law. This is just a taste of what you'll discover with this new app, and reading American magazine can now be a full-fledged digital experience.
Value Added
This sleek, user-friendly app was launched in November and it can be downloaded for free in the iTunes Store. It's now available in iPad and Android versions. This next technological step creates a variety of new avenues for editorial content.
"We wanted this to be an enhanced version of the magazine. With some of these [articles], we only have 200 words or less of text, but there's so much more story there," says Adrienne Frank, senior editor for American magazine. "So I think it gives us more flexibility to expand on some of the stories that we tell."
The app enables the use of slideshows, audio clips, time-lapse videos, and animation. For instance, in a story on AU alums who work at the National Aquarium in Baltimore, the app features a video showing a catfish surgery. To supplement a profile of a Capitol Hill staffer, a fun video is included with 12 rapid-fire questions for her.
With some publication apps, you get a literal translation of what's already on the page. But the goal of this project was to offer new features and added value to the print version.
"We had to work to make it special, because we initially thought we would pretty much do a website. But we didn't think a website would be as dynamic or as impressive as we needed it to be," says Kevin Grasty, assistant vice president for creative services in University Communications and Marketing.
New Designs, Broader Reach
American magazine, published by American University, reaches some 120,000 people—mostly AU alumni but also parents of current students and friends of the school. This new app could help the magazine attract an even wider audience. Reading habits keep changing, and many people now prefer consuming content on their tablets or phones. "I think it's broadening the reach of the magazine," says Frank.
With the digital component, American will be able to use analytics to assess the popularity of certain stories. "We'll know exactly what people are clicking on or what they skip or what they like. And that will help us as we're working on future issues," Frank adds.
They designed the app in landscape (or horizontal) orientation to help accommodate the large format photography used in the publication's layout. "We have a lot of imagery that bleeds. And so because we don't have advertisements in the magazine, this particular landscape format would serve our content better," Grasty says.
A Deeper Dive
Grasty handled a lot of the administrative and licensing work for launching the app. "I feel like I'm still a newbie. I only knew enough to get us through this process," he says. "Now I have to do a deeper dive to really understand all of what we can and should be doing."
Frank describes this venture as a challenging—but ultimately exciting—learning experience. "I've been a print journalist for 18 years—about half of my life has been print. So to think about translating that into something that people can view on an iPad was really daunting," she says. "But it's just this great opportunity to really be creative, and do something different."