Research
AU 2030: Benjamin Stokes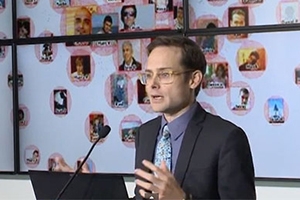 Media Gallery
*This is part of an ongoing series that focuses on the AU 2030 project. American University has invested significant resources in key subject areas that cut across schools and departments. This includes two subjects covered below: persuasive gaming and urban studies.
People often talk about how technology is an isolating force in modern life. Why sit in a crowded multiplex theater with other people when you can stream the movie alone on your iPad at home? But through his research, incoming American University School of Communication professor Benjamin Stokes has found ways that new technology and civic engagement can feed off each other. In fact, mobile technology and games can strengthen communities and play an integral role in urban revitalization.
"The intersection around civic media that is partly online and partly face-to-face is really exciting," Stokes said in an interview earlier this year.
The Human Side
If you're going to meet a friend at a neighborhood restaurant, you could obviously use Google Maps on your phone to locate the address. Yet with new kinds of games, community engagement through technology can become even more sophisticated and beneficial. And Stokes has found that the intersection of digital and human worlds often breeds the most productivity.
"The technology makes it possible with phones. We're bringing the Internet back into the physical world. And it's not just 'anywhere, anytime,' which was kind of the early model of mobile media," he explained. "I think actually the most powerful stuff with civics is resisting that, and saying it's 'somewhere, sometime.'"
Games can be effectively designed to incorporate real-life experiences, he said. "The current moment with games is that increasingly the design is shifting toward the human side, and the hard challenge is thinking about how it works with people in their everyday lives," he said.
Faculty Forum
In November, Stokes expanded on some of these ideas in a Faculty Research and Projects Forum at the School of Communication. It's critically important to focus on the distinct needs of certain local economies, he said. Yet digital games launched online are often universal, failing to address specific neighborhood challenges.
He singled out a game called Macon Money, which took place during a fixed time period in 2010-2011 in Macon, Georgia. The game involved bonds that were worth real money at local businesses. "They wanted to target businesses that were in the community that had been there for a while," he said.
Each participant got half a bond and had to find a matching person who possessed the other half. "[It] was very strategic in deliberately giving some of the bonds to one zip code, and giving a different set of the matching bonds to another [zip code], so therefore encouraging a cross-pollination across some of those socio-economic lines," he said, which included college students and residents who lived downtown.
"Sixty-three percent of the people who matched said they were very unlikely to have met the person otherwise. Even though Macon isn't a huge city, it's still bringing people together who wouldn't have otherwise connected," Stokes said.
Macon Money promotional video:

He added that during the game, some interactions moved from a physical space to an online Facebook forum. "There's an ecology that brings people together that's not purely digital or purely physical. And in fact it's the ability to go back and forth across these spaces that makes for a successful game and project."
Marching to His Own Beat
A theme surfaces when listening to Stokes. These days, we're not strictly online or offline most of the time. With mobile technology, we reside somewhere in between.
Stokes's background also defies easy characterization. He was born in Montana and grew up in Ashland, Oregon. To some extent, he was a traditional gamer like his friends. But he also took an interest in design around learning systems, and in high school he built online virtual field trips for kids. "I worked with an elementary school to have them map their neighborhood," he recalled.
He earned his undergraduate degree in physics from Haverford College. But he also dabbled in music: While studying abroad in Senegal, he played the djembe drum—and he remains a big fan of West African music today.
Before getting into academia, he co-founded Games for Change and served as a program officer at the MacArthur Foundation. He eventually earned his Ph.D. from University of Southern California, and he's now working on a post-doc at University of California, Berkeley.
He'll start at AU's School of Communication in the fall of 2015. He's a civic media research fellow in the Center for Media & Social Impact, and he'll be part of the AU Game Lab. Similar to other faculty members with the Game Lab, he believes in the power of games to enact meaningful change.
When people donate money or volunteer, they frequently don't see the results of their efforts, he said. "Games are all about giving people pretty immediate feedback about how their actions had an impact."