On Campus
Principled and Informed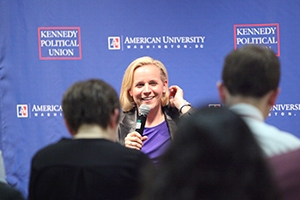 Mary Cheney may seem like a walking contradiction. But the way she presents herself, there's nothing inherently unusual about being an openly gay conservative. At one point during her appearance at American University on Wednesday, January 21, she echoed a statement from British Prime Minister David Cameron: "I don't support gay marriage in spite of being a conservative. I support gay marriage because I am a conservative."
A daughter of former Vice President Dick Cheney, she's been both a successful businesswoman and political adviser. Despite her high profile family pedigree, she mainly works behind the scenes now. But she has a number of informed opinions, and she shared them with the student audience on Wednesday night.
"From her first campaign job wearing a 'Honk for Cheney' sandwich board when she was eight years old, to her last as director for vice presidential operations for the Bush-Cheney '04 re-election campaign, Mary Cheney has experience at every level of political campaigns," said Kennedy Political Union Director Tyler Bowders.
The discussion, held in the Abramson Family Founders Room at the School of International Service, was hosted by the student-run Kennedy Political Union. Co-sponsors included the AU College Republicans, AU Student Government, and Student Activities. It was moderated by School of Public Affairs professor Elizabeth Suhay. Cheney's father spoke at a KPU event last year.
The Fight for Same-Sex Marriage
Cheney addressed marriage equality, a personal issue for her. In 2012, she married her longtime partner Heather Poe, and they have two children.
She talked about the sea change in public support for LGBTQ rights. In 2004 "only about a third of Americans said that they supported [marriage] equality," she said. "Fast forward to the present day, and polling consistently shows that a majority of Americans support equality." More than 70 percent of Americans now live in states with same-sex marriage, she added.
"Unfortunately, the Republican Party has not moved quite as quickly as the rest of the country when it comes to embracing the idea of [marriage] equality," she said. Yet more and more Republicans—both elected officials and voters—are endorsing same-sex marriage, Cheney explained.
Cheney touted Pew Research Center numbers showing a majority of younger Republicans now supporting gay marriage. This is "lending a great deal of credence to the argument that the fight over marriage is becoming less of a partisan one and more of a generational one," she said.
Hyper-Partisanship
Cheney remains committed to many conservative principles, such as Second Amendment gun rights and free markets. "For the record, I am a Republican. I am not a Republican with reservations, comfortable with some core convictions but not others. I am not a conflicted conservative," she stated.
Yet she also warned students about intense and growing partisanship, which she blamed on the rise of cable television and the Internet. "In the 1980s, early 90s, most people got their information from the same basic sources: broadcast radio and television and local newspapers," she said.
The new media landscape has created echo chambers, with liberals watching MSNBC and reading Daily Kos and conservatives sticking with Fox News and RedState. "If people are only hearing information from people they agree with, I think that's a problem." These also happen to be the most active voters, she said.
Citing research from Pew, she said a significant number of Democrats and Republicans now think the other party's policies threaten the nation's well-being. "At that point, the other party isn't the opposition. At that point, the other party is the enemy."
Probing Deeper
During a Q&A, Suhay asked Cheney if she's had success changing minds within her party on LGBTQ equality. "The best success I had was just being me," Cheney said. Many Republicans she encountered in the early 2000s had little familiarity with openly gay people. "A lot of times I was the first one they'd ever met."
Cheney showed her steely resolve in a humorous but revealing moment. "I want to talk about feelings. See if I can get you to cry," Suhay said in jest. "I'm a Cheney, do you really think you can?" she quipped. Suhay then questioned how Cheney felt when confronted with anti-gay sentiment in certain GOP circles. "Don't let the bastards win," she responded.
Suhay also probed deeper into Cheney's political ideology. "There are certain libertarian leanings, but I'm not in favor of legalization of marijuana. I'm extremely pro-life. I do believe that there are times when we should engage in foreign conflict," Cheney elaborated. "I do believe that there are times—this is not conservative or libertarian—when the government needs to help those who cannot necessarily help themselves."
Students engaged with Cheney on issues such as campaign finance reform and the recent CIA torture report. In an interview after the event, freshman Andrew Valcarcel said he was "blown away by her intelligence and her people skills." Valcarcel, who describes himself as a Democrat, enjoyed hearing another viewpoint. "I want to hear both sides. I don't just want to hear similar positions to mine all the time."
From a student question on Twitter, Cheney was asked to name a political figure she admired on the other side of the aisle. "In terms of sheer political skill, the best person of either party I've seen, ever, is Bill Clinton. I think he lacks a moral compass, but man, he's a good politician." Based on values and policy ideas, she named former Sen. Joe Lieberman (a Democrat-turned-independent).
A student in the audience asked how long it might take before the GOP nominates a presidential candidate who champions marriage equality. "I think it depends on who wins in 2016. I think it could be as soon as 2020. I would be shocked if it's not before 2028."