Television & Film
Honest Films, Healthier Planet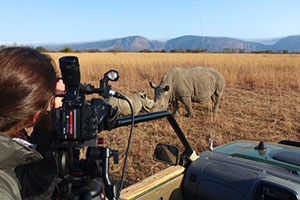 When you turn on a wildlife documentary, it's easy to get swept up in the profound wonders of the natural world. Yet, according to School of Communication professor Chris Palmer, you should view what you're watching with healthy skepticism. Let's say the program depicts a grizzly bear feeding on a dead elk. Well, Palmer has got news for you: A cameraman probably stuffed that dead elk with M&M's.
"That bear is just going off on the M&M's, and it's a controlled, captive bear. But what the viewer sees looks like actual predation," Palmer says. "It's amazing how little of wildlife filmmaking is actually wild, wildlife. So much of it is captive."
Palmer expands on these ideas in his soon-to-be-published book, Confessions of a Wildlife Filmmaker: The Challenges of Staying Honest in an Industry Where Ratings Are King. Part memoir, part exposé, Palmer leaves no stone unturned in his engrossing account of the wildlife filmmaking industry.
Calling Out the Broadcasters
Drawing on his own experiences as a wildlife film producer, his forthcoming work is in some ways a sequel to his 2010 book, Shooting in the Wild.
Watch Palmer point out a deceptive scene in one of his IMAX movies, "Whales."

Yet in an interview, Palmer explains how this book is different. "What this book does—what the other book didn't do—is it holds the broadcasters' feet to the fire more. In that last book, I tended to criticize filmmakers. What I've done in this book is say, 'Wait a minute, it's not really the filmmakers. The filmmakers are hired by the broadcasters,'" he says.
Palmer blames unethical wildlife filmmaking practices on the obsession with dollars and ratings. "It's a highly intensive industry. National Geographic, Discovery, Animal Planet, and the History channel all compete for viewers. And so they are going after ratings. And what's really driving them on a day-to-day basis is if they don't get the ratings, they're going to lose their jobs. And it's very brutal," he says.
In Confessions, Palmer delivers withering criticism of this televised race to the bottom. "These networks and their fraudulent documentaries only increase ignorance and fear when they could be changing the course of history by bringing true science education to a broad audience," he writes.
A Deceptive Game
He details some of the more egregious examples of network deception. He ridiculed Animal Planet for broadcasting two programs purporting to show the existence of mermaids in the ocean. "The network and its producers fabricated evidence, cast actors to play scientists, and seamlessly staged both programs so that viewers would think they were real. Mermaids exploited viewers' faith, engaging them in a program built on fakery and superstition," Palmer writes.
Animal Planet did admit that the shows were fictional, but this was divulged in the end credits in small print—almost as an afterthought.
He also writes about Megalodon: The Monster Shark Lives, Discovery Channel's 2013 "documentary" as part of its popular Shark Week. Again, the scientists were actors and the footage was phony. Yet it appeared to have duped audiences, with a poll afterwards showing that 73 percent of viewers incorrectly believed a 60-foot prehistoric shark was roaming the ocean. Popular British comedian John Oliver mocked Discovery and commented on the poll: "Why did everyone think that? Because you said they were real!"
With actual living animals, scenes are often staged and manipulated to create false impressions with audiences. Even worse—and Palmer says he never crossed this line as a filmmaker—there are instances of outright animal cruelty.
Finding the Meaningful Life
Palmer grew up in Bath, England, and followed in his father's footsteps by working in ship design for the Royal Navy. Yet Palmer drifted across the Atlantic and towards a career promoting the environment. He won a scholarship to earn his MPA from Harvard University's Kennedy School of Government in 1972—the same year he met his wife. "I fell in love twice. I fell in love with Gail, but I also fell in love with America," he recalls.
After working on Capitol Hill and in President Jimmy Carter's administration, he ended up lobbying for the National Audubon Society. His focus on the environment was born "out of a feeling of total confusion and loss," he says. "It was actually a search for a meaningful life."
He eventually believed the best way to influence the public was through documentary film and television. He forged a relationship with Ted Turner, and the TV mogul provided financial backing and supported Palmer's overall mission. Palmer led the production of more than 300 hours of programming for prime-time television and the IMAX film industry. At American University, he's a distinguished film producer in residence and director of the Center for Environmental Filmmaking.
Towards a Healthier Environment
Wildlife filmmaking can have a positive impact, making some segments of the audience care about animals. Watching polar bears in the Arctic might elicit viewer action on climate change, which is considered a threat to the bears' survival.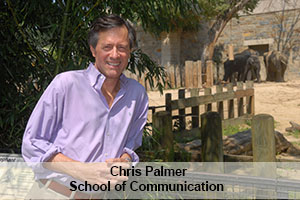 Yet these films also mislead the public in subtle ways. If you've seen films with lions, wolves, or bears, you might mistakenly believe these animals are everywhere. "They see a film on wolves, and they say, 'Oh, look at all these wolves! Look at these lions!' But they don't realize that it has taken three years to collect that footage, and it's all packed into one hour. And lions are in very dangerous decline right now," Palmer says.
Getting good footage of animals in the wild is extremely difficult. Documentary crews can spend weeks looking for wild animals, to no avail. "These animals are very wary of people and just stay away," he says.
But with patience, there are ways to shoot in the wild effectively and humanely. And while the audience is accustomed to seeing combative content—from reality TV to sports—he emphasizes the need to portray nature's softer images. "We have to let people know that when you tune in to view the wildlife, it's not just to see copulation and predation and violence. There are other things that can be equally fascinating, and we have to find ways to make these films that are interesting for people."
Palmer hopes audiences will become more eco-friendly after watching quality documentaries. "People are not conscious enough of the environment we live in, how dependent we are on environmental services like clean air and clean water. We take these things for granted…But the reality is we're so interdependent with nature," he says. "So to care more about wildlife and the environment is, ultimately, to care more about the future of the human race."