International
Adventures in Iberia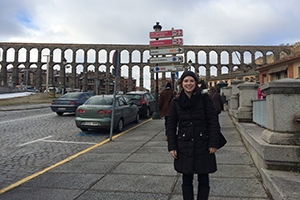 Living Her Dream
American University junior Charlotte Bergmann is not just studying abroad. She's living out her dream, one that germinated during childhood. Bergmann has had a longtime fascination with Spain, and now she's spending this semester in Madrid.
"I actually knew I wanted to study abroad in Spain in Madrid in sixth grade. And I was one of those kids, the second I started taking Spanish lessons in kindergarten, I knew that that was my language," she recalls.
So far, the country has completely lived up to her expectations. "It totally blew me away. Everybody is so friendly, so accommodating, and very curious," she says. "That feeling of trying something new is incredible, and I wish that for everybody. I'm so lucky that I have the opportunity to do this."
Bergmann is the inaugural recipient of the Dr. Maria del Carmen Caballero Scholarship for Study Abroad in Spain. As part of her program, she'll travel throughout Spain, as well as take a trip to neighboring Portugal.
No Pasa Nada
When reached for a Skype interview in January, Bergmann was just getting acclimated to the rhythms of everyday Spanish life. Of course, people really do eat dinner at 9:45 or 10:00 p.m. Spaniards have their own version of after Christmas sales, when people flood the streets and make shopping a fraternal, social activity. Siesta is as popular as advertised, with stores closing and people enjoying Sangria or coffee in the middle of the day.
"In the States, everything is 'go, go, go,' and here it's definitely not. They have a saying—it's called no pasa nada, or 'don't worry about it,'" she says.
Improvement and Immersion
At AU, Bergmann is majoring in public relations and strategic communication, with a minor in Spanish language. She's working towards her certificate in Spanish translation.
Bergmann is originally from Norwalk, Connecticut. She grew up in a musical family, is a member of American University Chamber Singers, and now plans to explore the rich music traditions of Spain. "The music history is definitely intertwined with the Spanish history as a whole," she says.
Despite the no pasa nada environment, she'll be quite busy. Her classes include a six-credit seminar, where she'll be steeped in Spanish politics, economics, and history. She's also taking courses in public speaking and women's studies. She's interning at the marketing agency Hibooboo.
For her living arrangements, Bergmann is staying with a host mom. A language professor, she's been quick to correct some of Bergmann's grammatical mistakes. Yet Bergmann, eager to have an immersive experience and master the Spanish language, welcomes this. "For me, it's perfect because I want to be corrected. I want to improve," she says.
An Educator's Legacy
Maria del Carmen Caballero died of cancer in April 2014. Following her death, AU Abroad established this scholarship in her name. She was a Fulbright Scholarship winner who earned her Ph.D. in 18th century Spanish literature. MariCarmen—as she was affectionately known—was director of AU's study abroad programs in Madrid for 18 years. When AU Abroad established the AU Center in Madrid in 2007, MariCarmen became the inaugural director.
Brita Doyle is an assistant director in the AU Abroad office and her portfolio includes the Spanish-speaking world. Doyle was a student and later a colleague of MariCarmen. After Doyle became program manager for Spain, she interacted with her frequently. "She was always there to talk on the phone, and to chat about work or personal life or career advice," Doyle says.
Earlier, while Doyle was an AU undergraduate studying abroad in Madrid, she witnessed an engaging, generous teacher. "I'd never been so inspired by someone in the classroom in my life. MariCarmen was such an intelligent woman, and so passionate about introducing students to Spain," Doyle recalls. "I learned so much—not just about the Mediterranean region and history, but just about being a positive person."
Doyle explains the special connection MariCarmen had with her students. "She had this great way of making everyone feel that we were her priority. And, indeed, I think her students really were her priority," Doyle says. "You could just see how much she was in love with her country of Spain, and she wanted students to experience that as well."