Research
AU 2030: Karen Knee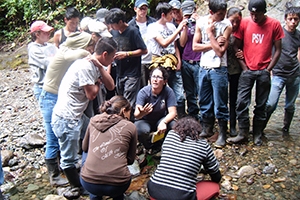 *This is part of an ongoing series focusing on the AU 2030 project. American University has invested significant resources in key subject areas that cut across schools and departments. AU professor Karen Knee conducts research in the field of environmental science.
In work and in life, Karen Knee has embraced variety. That's one reason why her chosen field, environmental science, has been such a good fit. Among other disciplines, it incorporates chemistry, biology, geology, physics, and public policy. And for Knee, in some ways, it is science with a social conscience. "What I like about environmental science is the fact that it is science that directly relates to real and pressing problems that we have as a species," she says.
At American University, Knee is an assistant professor of environmental science in the College of Arts and Sciences.
Marcellus Shale
Hydraulic fracturing, or fracking, is a controversial form of oil and natural gas extraction. Environmentalists have linked fracking to air, water, and land pollution, while industry groups have charged that these claims are overblown. Like any good scientist, Knee has been gathering her own evidence out in the field.
Knee has examined Marcellus Shale, where there's been a fracking boom in Pennsylvania and West Virginia in recent years. Yet in Maryland there's been a fracking moratorium, providing her with a solid testing opportunity. With the help of undergraduate research assistants Alex Hitchens, Alexa Bolden, and Rebecca Wolf, she assessed the impacts on surface water quality in streams in fracking areas in Pennsylvania and non-fracking areas in Maryland. "We measured the basic water quality, things like temperature and flow rate, and we also looked at the concentrations of different dissolved metals, as well as radon and radium," she explains.
Particularly when examining the metals, they discovered potentially harmful consequences of fracking. "Every single metal that we measured was higher in concentration in the Pennsylvania streams than in the Maryland streams. And many of the differences were significant," Knee says. The field work for that study was conducted in 2013, and she's planning additional fracking research this summer.
Other Research
Knee focuses on how human activities affect water quality, as well as how pollutants are transported. She's currently analyzing how groundwater carries nitrogen pollution into streams, and eventually, the Chesapeake Bay.
She is also planning a new project with fellow AU environmental science professor Kiho Kim, focusing on ecosystem services in coastal areas of Guam. "In most coastal areas, and especially on isolated tropical islands, human society depends a lot on what nature does for us," she says.
Knee provides some examples: Nature allows fish populations to thrive, and the fish can be eaten for human sustenance;water transports the waste away;coral reefs protect the land from giant waves. "We're trying to develop a model of those services, how human activities affect them, and how they affect the human population and economy," she says.
Her Own Path
Knee mostly grew up in Charleston, South Carolina, where her affinity for water and the environment was nurtured on that southern city's beaches. After earning her bachelor's degree from Brown University, she took time off from school and moved to Austin, Texas.

Without a car, she tried to make ends meet with three part-time jobs. She worked as a lab assistant, a cook at a Japanese restaurant, and a freelance journalist for a local newspaper—"I actually became the paper's church reporter, even though I'm Jewish," she says with a laugh—before deciding to move on. "I thought, 'This is not good. I'm just as broke as I was eight months ago.'"
Knee took a job in New Jersey on a historic schooner. In that role, she was a mix of environmental educator, deck hand, and ship's cook. She eventually attended graduate school, earning her Ph.D. in geological and environmental sciences from Stanford University.
Along the way, Knee also interned as a science writer for The Philadelphia Inquirer. Knee's favorite research spot is Ecuador, where she got a Fulbright grant to study land use and water quality in a cloud forest in the Andes Mountains.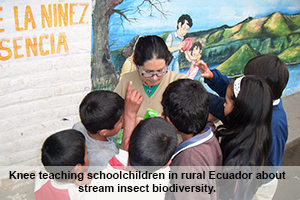 She has plenty of other interests, such as foreign languages (she's fluent in Spanish and proficient in Hebrew), reading fiction, cooking, and visual arts. And she maintains a love for the outdoors, biking to work and occasionally hiking in Rock Creek Park with her toddler and dog.
Looking back, Knee believes the circuitous route she took to academia provided her with a healthy perspective. "I feel like you just have to follow whatever your own path is, and make the most of it," she says. "My path was maybe not as much of a straight arrow as some other people. But I think you just have to embrace the kind of person you are."