Student Life
Inspire and Give Back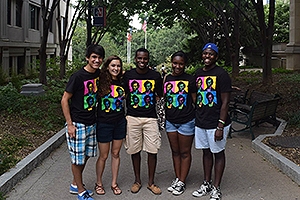 Abolitionist. Author and orator. Supporter of women's suffrage. Frederick Douglass was a remarkable individual, someone deeply immersed in the issues of his day and committed to a brighter future for his country.
A group of outstanding American University students draws inspiration from Douglass's momentous, far-reaching legacy. Envisioned by AU Provost Scott Bass, the Frederick Douglass Distinguished Scholars (FDDS) program covers full tuition, fees, books, room and board for students dedicated to helping struggling communities. FDDS Director Larry Thomas sees the program training the next generation of leaders. "It's really about preparing them for a lifetime of giving back to underserved and under-resourced populations around the world," he says.
FDDS is enjoying its fifth anniversary this year. It was recently recognized as the 2015 recipient of the Voice of Inclusion award from the ACPA-College Student Educators International. The Voice of Inclusion medallion recognizes university-based programs that help make their campus communities a welcoming and inclusive environment.
Finding Top-Tier Talent
In selecting new scholars for the FDDS program, Thomas says special attention is given to geographic diversity, first generation college students, and individuals who aim to strengthen communities of color. Thomas says the program looks for "students with the ability to inspire and motivate other people and themselves." A community of faculty and AU leaders provides academic oversight of the FDDS program. Department of Literature professor Keith Leonard currently chairs the committee. Under faculty guidance, the program developed significant bridge courses, one of which will take the Frederick Douglass Distinguished Scholars to Cuba this summer.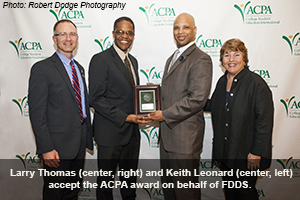 "In almost all of these cases, we are fortunate that these students don't pick the Ivies, because their GPAs are all in the stratosphere," says School of Communication professor Russell Williams, a former chair of the FDDS committee. "They're here because they're the best of the best. And American was generally their first choice, mainly because of our reputation of service."
Five years after the FDDS inaugural launch, Thomas is continually excited about the talent. "You're looking at someone now as a freshman or a sophomore and thinking, '10, 20 years from now, this person could be on television or on The New York Times Best Seller list,'" he says.
The Student Experience
Stephanie Vela is a junior sociology major. She comes from a working class, mostly Hispanic immigrant community in Coachella Valley, California. She's first generation in her family to attend college and first generation born in the U.S.
When she first considered applying for FDDS, the scholarship money and one-on-one mentoring were major selling points. And the program has exceeded her expectations. "It's been the center of my college experience," Vela says. "The program has opened up all of these avenues of success that I can have."
Vela is interning at the White House Initiative on Educational Excellence for Hispanics, housed at the Department of Education. She's previously interned with Voto Latino and in the office of her hometown congressman, Rep. Raul Ruiz, D-Calif. She's hoping to work in education policy, and she eventually plans to assist people in Coachella Valley. "I was brought up there. So it's my responsibility, in a sense, to help."
Isobel Araujo is a freshman, planning to double major in environmental studies and film and media arts. "I've already been able to do so many things that I never would have been able to do otherwise," she says. Before school even started, she took part in the FDDS summer bridge trip to study in Rome.
A Chicago native, Araujo's long-term goal is to attend graduate school for urban planning. "I feel particularly passionate about this because I grew up in an urban area. My neighborhood is rapidly becoming gentrified, and a lot of community dialogue needs to happen," she says. Araujo is focused on the intersection of urban planning and sustainability. "A lot of environmental problems, like air pollution, happen in marginalized communities."
Some recent FDDS alums are already building successful careers. For instance, Falon Dominguez is now working for Google in Silicon Valley.
Recent grad Alan Arturo Day García will start a San Francisco-based job in investment banking this July. As a high school student in Albuquerque, New Mexico, he already showed a commitment to service and tutored some Hispanic students struggling with English. And he donated money to several foundations during his FDDS years. When he relocates, he'd like to support Bay Area Hispanics. "If I can maybe help people with their immigration status, or keep families together, that would be of interest to me," he says.
Access to Power
Through FDDS, students get plugged into the D.C. networking pipeline. They also have the opportunity to speak with national leaders and other accomplished professionals. In recent years, students have met everyone from former Secretary of State Colin Powell to cast members of Scandal and Orange is the New Black.
A highlight for Stephanie Vela was meeting Supreme Court Justice Sonia Sotomayor this year. "It shows me that, 'Ok, these are people who look like me, who've gone through similar situations, and they're in these places of power.' It's a validating experience."
Alan Arturo Day García was impressed with then-Federal Reserve Chairman Ben Bernanke. "He was probably one of the most powerful people in the world," he recalls, "but he was also a very grounded person."
Thriving Together
Students have to prove their mettle, they are part of the rigorous AU Honors Program and need to maintain a 3.2 GPA to keep the scholarship. In a living-learning community—freshmen and sophomores live together in Hughes Hall—this gives students in FDDS and AU Honors a shared mission. "They can simply take the elevator or walk downstairs to a reading room, which provides a safe space for them to be high-achieving scholars," Thomas says. "They're in the two most difficult programs on campus, so they have to survive together. And they're not just surviving, they're thriving."
"We really go to each other for advice, or if we're feeling overwhelmed," Vela says. Araujo adds, "They're basically my family."