Athletics
Eagles Prepare for Biggest Game in Program History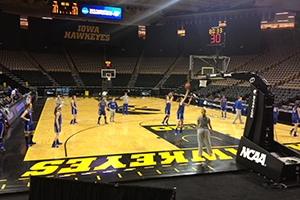 Dyersville, Iowa, where Kevin Costner played baseball with his dad, Shoeless Joe Jackson, and a bunch of other ghosts, is about 70 miles north of Iowa City, where on Thursday the AU women's basketball team walked into Carver-Hawkeye Arena—its own field of dreams. At least for this week.
For the first time in program history, the Eagles practiced knowing that a NCAA Tournament game awaits. AU, which punched its ticket to the Big Dance by winning the Patriot League Tournament, was rewarded with a first-round match-up against Big Ten powerhouse Iowa in the Hawkeyes' home gym, where it's 16-0 this season.
First there was the matter of getting there. The team climbed onto a bus Wednesday following a rally on campus and headed to Dulles Airport, where it boarded a charter for the roughly three-hour flight to Cedar Rapids. From there it was back on another bus for a short ride south to Iowa City.
Meanwhile, the Hawkeyes simply rolled out of bed. That's a fact of life in the women's tournament, where higher seeds earn home court advantage.
Not that it seemed to bother AU very much. The players were upbeat, joking and laughing frequently during the trip and dinner at Blackstone (which features a burger topped with fried shrimp called the "Big Kahuna").
Thursday was more of a business day, with film review, a press conference, and practice on the agenda. AU's task is a tall one: Iowa, a three seed, went 24-7, including 14-4 in the Big Ten. It received its eighth-straight NCAA Tournament invitation, a streak only nine other schools in the country can equal.
"They're a well balanced team - one through five they can all score," AU coach Megan Gebbia said. "They shoot the three extremely well so we have to make sure we're out guarding the shooters. We're going to have to rely on our team defense."
If AU hopes to pull the upset, it will have to overcome not only what's sure to be a hostile crowd (as of Thursday evening ticket sales were approaching 5,000), but also Iowa's Melissa Dixon, who leads the nation in made threes per game. Its point guard, Samantha Logic, is the NCAA's active career assists leader.  
The Hawkeyes are coached by Lisa Bluder, one of only 10 active major college coaches with at least 600 career wins.
"We know American is a great basketball team," she said. "You have to go back to January to find a loss on their schedule. They have a very good scorer in Jen Dumiak, they have a great three-point shooter in [Arron] Zimmerman, and we know it's going to be a very, very good basketball game tomorrow."
Curfew was scheduled for 10:30 Thursday night, because Friday, the biggest day in AU's players' basketball lives, will start early. The team will leave for the arena at 7:30 a.m. for practice. It will return to its hotel for breakfast and final preparations before heading back for the game, which tips at 2:30 eastern and will be televised by ESPN2.