Athletics
Eagles Dream Season Grounded by Hawkeyes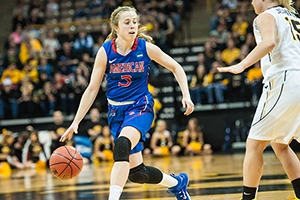 It ended in a sea of black and yellow, on a court where its conqueror has not stumbled this season. The AU women's basketball team lost its inaugural NCAA Tournament game on Friday, falling to Iowa in submerged Carver-Hawkeye arena before a raucous crowd of thousands–almost all of them screaming for the home team.
But the Eagles players have no reason to hang their heads–the team's first foray into the national spotlight was anything but a failure. AU threw a scare into the third-seeded power from the Big Ten before the Hawkeyes pulled away in the second half. This Eagles team won more games than any before it, and earned the respect and admiration of a heartland crowd that knows its basketball.
"I just want to congratulate American on a great year," Iowa coach Lisa Bluder said. "I thought they played very, very well. I think their coach has done a tremendous job in two years getting that program to the NCAA Tournament. They came here on an 11 game win streak. I thought they played outstanding, did just a great job, so congratulations to Megan and American on a fabulous year."
Before the game Eagles fans gathered at nearby restaurant Old Chicago. Over slices of deep dish pizza, Ed Kovarik, SOC/BA '63, reminisced about broadcasting AU basketball games from the old Leonard Gym.
A lifelong Iowan–and a Hawkeyes fan–Kovarik drove two hours from his home in Elma for the game.
"I'm going to have to sit on the AU side for one half then switch to the Iowa side," he joked. For the record, Kovarik was wearing red and blue.
He was one of a precious few. In part because of its supportive crowd, Iowa is practically unbeatable at home. It improved to 17-0 at Carver-Hawkeye this season, and 106-23 in its last 129 games.
The sheer size of the moment might have contributed to AU's shaky start. Iowa hit a quick three-pointer, then after a turnover, the Hawkeyes' Ally Disterhoft converted an old-fashioned three-point play to give Iowa a 6-0 lead.
But AU quickly found its footing, getting on the board when Shaquilla Curtis drove and scored the Eagles' first two points just before the shot clock expired. AU continued clawing back, taking its first lead with 13:24 left when Ari Booth hit a three-pointer to put the Eagles up 12-10. The junior from Pflugerville, Texas was just getting started. She scored 14 points (going four for five from three) in the first half, which ended tied at 36.
Sitting in the hotel lobby the day before the game, AU head coach Megan Gebbia said that she didn't think her team would be intimidated. "I think it helps that we've seen Iowa [at a Las Vegas tournament both teams played in]," she said. "They're not a scary, physically imposing team, but they are a very skilled team."
In the second half, that skill showed through. Iowa's Melissa Dixon, the nation's leading three-point shooter, opened it by hitting a three. Again, Iowa scored the first six points of the half. Again, AU answered, this time with two Jen Dumiak free throws. The Patriot League Player of the Year shined in her final collegiate game, scoring a team-high 23 points and dishing out nine assists.
But as the half progressed, AU had no answer for Iowa's pace and aggression, which was one reason the Hawkeyes went 16 for 18 from the free throw line. AU managed a late 7-0 run, capped by an Arron Zimmerman three-pointer that cut Iowa's lead to five with 2:30 left, but it wasn't to be on this day for the Eagles.
"Seeing kids cry in the locker room is never an easy thing," Gebbia said after the game. "I'm so proud of them; they have never been here before. They have never played in front of so many fans before cheering against them, and yet throughout the entire game, they fought. I just think that this group represented American University extremely well and the Patriot League extremely well. Iowa is a terrific team, you have to give them credit. But I'm just so proud of this team because they were able to keep it close the entire way."
AU will head home on Saturday, but after its greatest season ever, it knows it will return to the national stage again.