Television & Film
With Woman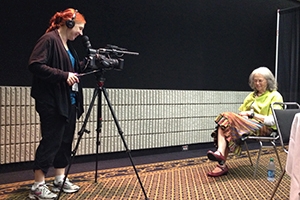 Personal Inspiration
Brigid Maher had an epiphany just minutes after giving birth to her second child. After sweating through the labor process, she blurted out, "I want to make a documentary about nurse-midwives!" That initial impulse became a reality, and Maher's pregnancy and delivery informed her next project as a filmmaker.
Maher's new film, The Mama Sherpas, examines the collaboration between nurse-midwives and doctors. It's the culmination of a journey, with her closely following four midwifery care providers: George Washington Hospital Medical Faculty Associates in D.C.; Baystate Midwifery and Women's Health in Springfield, Massachusetts; Physicians & Midwives in Alexandria, Virginia; and Sutter Davis Hospital Birthing Center in Yolo County, California.
The documentary was inspired by Maher's own personal experience. During her first pregnancy, Maher was induced at 41 weeks and delivered her son via Cesarean section. She didn't realize—and wasn't told—that induction increases the chances of needing a C-section, which is a major surgery and carries additional health risks for the mother and baby. "I assumed that an obstetrician would not make a recommendation that was against my own best interests," Maher says in an interview.
Through the practice at GW, a midwife helped her through the vaginal birth of her second child, Josephine. "I just found the whole process so inspiring, and I realized my own naiveté and ignorance on the subject of childbirth," Maher says.
Healthy, Holistic Care
The Mama Sherpas is a powerful examination of nurse-midwives and mothers during the entire birthing process. The term midwife actually means "with woman," and this film shows just how all-encompassing the midwife role can be. Nurse-midwives aren't just there to catch a baby during delivery.
"Hospital midwives are often on the front lines of poverty, accepting Medicaid reimbursements that are too low for doctors and providing women with holistic primary care," Maher narrates in the film.
This is demonstrated through film footage at Baystate Medical Center, a large education-based hospital. Among other things, Baystate midwives assist immigrants struggling to get acclimated in the U.S. Maher films a centering group (essentially, group pregnancy care) with a midwife talking to Somali women who have lived in war-torn areas and refugee camps. "You watch this midwife talk to these women and engage them in this conversation about what is post-traumatic stress disorder," Maher recalls. "What the midwives provide for women is far beyond what you expect in terms of care."
The midwives' efforts to educate and prepare expectant mothers can make the birthing process much healthier, Maher says. One mother in the film discusses the need for physical endurance: "You train for months spiritually, psychologically, certainly physically, for a marathon. Giving birth is the most athletic thing a woman can do. Why wouldn't you train for that, too?"
Doctors sometimes misdiagnose early labor for active labor. "They'll think, 'Oh, you've been in active labor for 12 hours, you have to have a C-section. When really the woman has only been in early labor, but she went into the hospital too soon," Maher explains.
The midwifery model of care allows a woman to go into labor at the proper time, thereby reducing the likelihood of a C-section. Cesarean rates for low-risk women can be as high as 57 percent, but for low-risk women attended by midwives the C-section rate average is 12 percent.
"You want to wait for labor to begin on its own. That's the best thing to predict a smooth, normal birth," says GW certified nurse-midwife Whitney Pinger in the film.
Normalizing Birth
For her film, Maher secured intimate access to hospitals during live baby deliveries. And she feels that showing these images could help normalize birth. "American culture fears birth. And when you fear birth, you tend to want to medicalize it. And when you medicalize it, you risk having poor outcomes and increased C-section rates. But if you dispel that fear, you're able to have better outcomes," Maher says.
Maher's documentary is part of the maternal rights movement, which seeks to empower women to make healthy decisions on behalf of themselves and their babies. The Mama Sherpas caught the attention of two prominent maternal rights advocates, Ricki Lake and Abby Epstein.
Lake, an actress and former TV talk show host, executive produced and appeared in a widely discussed 2008 documentary, The Business of Being Born. Epstein directed that film. The Business of Being Born raised questions about why the U.S. has among the highest infant mortality rates in the industrialized world. The Mama Sherpas resonated with Lake and Epstein, and they have signed on as executive producers. Maher's film will be distributed by BOND/360.
Creative Impact
Maher has been teaching at AU since 2004. A Seattle area native, she has an MFA from the radio/television/film department at Northwestern University in Illinois. "I became interested in filmmaking because I saw it as a vehicle for promoting social change. To me, it was really important to have a calling," she says.
That calling brought her to the Middle East. Her previous film, Veiled Voices, featured three Muslim women making an impact in patriarchal societies in the region. Through documentary filmmaking, Maher more accurately depicted the everyday experiences of Middle Eastern women. "When storytelling is truly effective, it calls audience members' misconceptions into question, and encourages them to look further," she says.
At AU, Maher is an associate professor of film and media arts in the School of Communication. In May, she'll become co-director of the Center for Media and Social Impact.
Kelsey Marsh, a film and electronic media grad student, got to know Maher and later served as her TA. Marsh worked on The Mama Sherpas, doing social media promotion, partnership development, and field production work. She earned an associate producer credit, and she was one of many AU students who worked on the film.
"It's been a great learning process, not only for my role on this film, but for my role as a filmmaker independently," says Marsh. "I didn't know exactly how dedicated you have to be, and that it's never too early to start. Once the idea is in your mind for a film, you should get online and reserve your website, and make your Twitter handle and your Facebook page."
More than Just a Job
It's clear from watching The Mama Sherpas that nurse-midwives are highly-trained professionals with considerable expertise. And they're on the cutting edge of improving maternal care for millions of American women. We're a long way from the 1950s gritty underworld portrayed in the BBC series Call the Midwife.
But what motivates nurse-midwives on a daily basis? Maher says it's a passion and commitment to helping people. And, much like her approach to filmmaking, it's a calling. "This is their vocation. They don't just see it as a job—it's the focus of their lives."