Business
Inspiring Graduate Stories: Nia McCarthy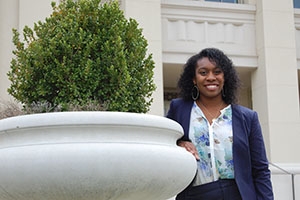 Set to graduate this month, Kogod School of Business student Nia McCarthy already has a great job lined up. She'll be working in a New York City office of EY (Ernst & Young), where she'll be part of the business advisory program in financial services. McCarthy will initially live at home, saving money and making the work commute to Manhattan. "I'm really excited about it. And I don't even mind going home so much, because I love where I'm from," she says.
Memorizing Catalogs
Her home is White Plains, New York, a suburban town where she was raised by a single mother. "I have a small family and we all live near each other, so growing up I was really close to them," she says.
McCarthy got exposure to business at an early age. Her mom has spent many years at Avon, now serving as a district manager. "I grew up knowing Avon catalogs inside out. I could tell you exactly what product was on what page, how much it cost, if it was going to be on sale, what was coming out next week," she recalls.
Though she witnessed the difficulties of her mom's job, she also demonstrated her own entrepreneurial spirit. All of that time memorizing the Avon catalog paid off. "When I got back to school in 8th grade, I started selling to my vice principal, two friends, and one of my teachers," she remembers with a laugh.
During her junior year of high school, she took a class called Network for Teaching Entrepreneurship (NFTE). Each student had to formulate a business plan as part of a competition. With the senior class valedictorian in her class, she was a perceived underdog. Yet she pulled out the victory. "Everyone was really surprised. But I didn't think it should have been much of a surprise. I thought, 'This is really exciting and this is what I like,'" she says now. "I think that's when I realized that I wanted to go into business."
College Years, Here and Abroad
Before starting her freshman year at American University, she took part in the Summer Transition Enrichment Program (STEP). After seeing a presentation from the Center for Diversity & Inclusion, she jumped at a chance to work there. And through dealing with CDI and the Office of Campus Life, she learned about Alternative Breaks. McCarthy's Alternative Break in Northern Ireland would stand as one of the highlights of her time at AU.
"It's not visibly as violent as conflicts in other countries. But you learn that a lot of the schools are still segregated," she says. "You can see all of the tension there."
She ventured abroad again in 2014 for a semester in Paris, which became another memorable experience. And while getting acclimated in a foreign city, she learned that culture shock has certain ancillary, character-building benefits. "With not knowing the language, it taught me how to laugh at myself. I think coming here, I was very serious about things," she says. "If you didn't learn to laugh about it, then you'd just be miserable the whole time. And Paris is not a place you want to be miserable in."
McCarthy was engaged in a number of activities at AU. She was a student mentor at CDI, and she also worked with Peer Educators for the Elimination of Relationship and Sexual Violence. As a program associate for University College, she oversaw a team of 20 freshmen to develop and execute a film series.
A Day to Celebrate
McCarthy's bachelor's degree has a self-designed specialization in global management and social responsibility, and she plans to do volunteer work in New York. While looking for jobs, she appreciated EY's record in philanthropy.
She also hopes to donate time to AU in some capacity. "I always see alumni come back to do networking events, or talk about where they are now. And I kind of hope that I can be one of those people, too." Coincidentally, EY is coming to AU: Kogod's commencement speaker is EY Global Chairman and CEO Mark Weinberger.
In advance of graduation weekend, McCarthy feels a sense of accomplishment. "Just being able to come here and be successful, and to get a job right after college…it's very important for me," she says. "And for my family, I know it means a lot to them as well." Her mother will undoubtedly be proud. She's coming to graduation—and bringing their 23-pound Shih Tzu dog along for the trip.