Social Sciences
Inspiring Graduate Stories: Ta Lynn Mitchell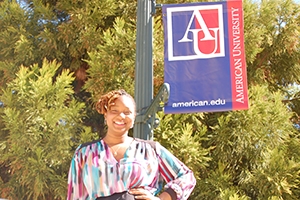 These days, Ta Lynn Mitchell is enjoying some hard-earned success. She's about to get her bachelor's degree in sociology, with a minor in public administration and policy and a certificate in advanced leadership studies. She also just won a student research award for Best Oral Presentation in the Social Sciences by a Junior or Senior. But life has been anything but easy for Mitchell. Her story is one of perseverance and resilience.
A Voice for Herself
Mitchell was born in Fresno, California, but she mostly grew up in Oakland. From a close-knit family, her great-grandparents sometimes took care of her while her mom was working. "My mom always advocated for me. So I think I learned to have a voice for myself from her," she says.
During Mitchell's junior year of high school, her parents got divorced. Unable to afford the same living arrangement, Ta Lynn and her mother were forced to move abruptly. A friend took them in, with mom and daughter living in one room and sharing a bunk bed.
At this time, Mitchell was taking lengthy commutes with one of her teachers to an all-girls school in San Francisco. "I had to change the location of where I was supposed to meet my teacher for the carpool, and I never told her why. I just said, 'You know, we moved.' So, I was going through all of this stuff at home, but I didn't tell anyone," she recalls.
As a child of divorce dealing with financial hardship, Mitchell tried to sort through her personal feelings. "I love helping people and taking care of people. So my first instinct was to take care of my mom," she says. "But not only that, I had to support myself, too. And I had to kind of figure that out."
Finding Happiness
Mitchell got accepted to American University and entered the next phase of her life. But during her freshman year, money problems back home were taking a toll. Mitchell's mom became guardian to a recently deceased cousin's two grandchildren, causing additional financial strains on the family. "Honestly, at the time, I didn't know if I was going to return to AU," she says now.
Yet through grant money and various jobs on campus, Mitchell was able to remain in school. And through all of this, she's found ways to help other students as well. She's finishing up her stint as an RA in Anderson Hall, and before that, she was an RA in a social justice living-learning community.
"Ta Lynn has this beautiful heart, and has used it to serve the university well," says Margaret Marr, director of the SPA Leadership Program that included Mitchell. "She's faced significant challenges all the way around," she adds. "I'm just enormously proud of her."
Mitchell studied abroad in Copenhagen, Denmark. Remember that United Nations-sponsored report naming Denmark the happiest country in the world? Well, that's what inspired Mitchell to go there. Can you blame her?
The experience, she says, was amazing. She was part of a program that studied tolerance, with a focus on Muslim immigrants. In addition to traveling extensively throughout Europe, she lived with a host family in Denmark. "They were so loving, so supportive. And we just had great conversations. They showed me a different side of life. In the States, to bond [people] sit down and watch TV," she explains. "But there, you sit down and you have some tea, and you talk."
Race, Justice, and Mentoring
After Michael Brown's death in Ferguson, Missouri made international news, she discussed race relations with her host family. "They were understanding and wanted to hear my perspective. I felt like there I was viewed more as American, before I was African-American. And here, I view myself as African-American first," she says.
Mitchell talks candidly about the difficulties of being a minority. "I think as black women we have to prove ourselves and prove that we're worthy. And being able to know that I'm okay just how I am."
She's been a passionate advocate for racial equality, and she's studied the "school-to-prison" pipeline affecting African-American and Latino students. "This is a zero tolerance policy, which for minor infractions like your shirt being the wrong color, you can literally go to juvenile hall. That starts the cycle. And once you're there, it's no going back," she says.
Instead, she's supported less punitive measures, such as mentoring and education. While at AU, she created a seminar series and mentoring program that connected young girls from Oakland with professional women of color. Her capstone was titled, "Elements of Mentor Programing That Add and Detract from the Development of African-American Girls."
Present and Future
During her final semester at AU, Mitchell interned on Capitol Hill for Rep. Janice Hahn, D-Calif. Following graduation, Mitchell will teach elementary school in New Orleans as part of Teach for America.
Though still quite a distance from Oakland, she can still return for her large family reunions every year. And her bond with her mother remains strong. Just as Mitchell is earning her degree from AU, her mom is finishing up her master's degree in leadership, concentration social justice, from Saint Mary's College of California.