Television & Film
Inspiring Graduate Stories: Brittaney Nunnally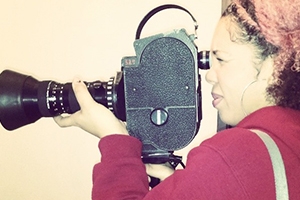 The axiom is probably true: We're all creatures of habit. Life-altering plans are hard to jumpstart, and even harder to execute. Brittaney Nunnally didn't take her big decision lightly, but she got inspired to try something new. She moved with her two-year-old son from her home in Atlanta to the Washington, D.C. area. The purpose? Nunnally was entering a graduate program at American University's School of Communication.
A Balancing Act
After earning her MA in film and video with a documentary specialization, Nunnally is set to walk this month at commencement. As a single mother, with no family in the D.C. area, just how did she manage to pull this off? Well, it was a balancing act. "I didn't have a choice," she says now. "I don't know how I did it. I just did it."
She'd try to schedule classes when her son was in daycare. If she had a night class, it proved even trickier. "I would have to pick him up, cook, play with him a little bit, take him to the babysitter, and then go to class," she recalls.
But school itself was also a tall order. Though she's long had an affinity for documentary film, her bachelor's degree from Tuskegee University was in English. "When I entered AU, I had no film video experience whatsoever. I had never picked up a camera. And for a lot of the students there, this had been something that they wanted to do for a long time," she says.
After feeling a bit exasperated, she embraced a do-it-yourself attitude and avoided relying on classmates. "I had to force myself to do projects by myself, so that I could learn what to do," she says. With this new hands-on approach, she relished SOC professor Bill Gentile's class dealing with backpack journalism and documentary. "That was like the best class ever for me, because I like to write, shoot, and direct," she says. And she adds that this course was great preparation for her next excursion: a study abroad trip to Prague, Czech Republic.
Written Off and Marginalized
During her time at AU, she made some provocative films. In Tytaziearna (named for the documentary's protagonist), she followed a 17-year-old Anacostia High School student who had just had a son. After meeting officials at the school, she learned about a program for parenting teens. She was immediately intrigued. After talking with a few students, she chose Tytaziearna and secured access to her life.
"She's just another one of those quote-unquote statistics society just puts in this box, and says, 'She's African-American, she's from Anacostia High School, she has a baby, she's never going to amount to anything,'" Nunnally explains. "But I told her story for the same reason I will tell anybody's story. It's because I like to give a voice to people who have been written off and marginalized."

She took the same approach shooting a film while living in Prague. With her interest in mental health issues, she did research on the subject of castration. She eventually made a short film about a man labeled a sexual deviant and sadist. He'd been castrated and lived in a mental institution. "People say, 'Ok, he's a monster.' He's written off. But I gave him a platform to tell his side of the story and say, 'Hey, I'm human, too.'"
These two documentary subjects appear altogether different, yet Nunnally viewed both people in the same sympathetic light.
Seeing the World
Despite her drive to be an independent filmmaker, being a good mother has always taken precedence. "My son is just so important to me that he's going to overshadow anything else that I've ever done or accomplished," she says.

Nunnally has returned to her hometown of Atlanta. And she hopes her filmmaking will be a catalyst for telling stories all over the globe. "I just want to travel the world and experience different cultures. I love taboo topics in other cultures. And I just really want to learn about other people and the way they live."