International
Inspiring Graduate Stories: William "Andy" Hatcher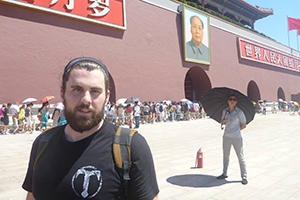 After fighting in Iraq and losing many friends, William "Andy" Hatcher began to lose his desire to serve his country. "Being witness to the political turmoil that happened with the Iraq War changed my interpretation of American politics," he says. "It made it very negative."
Nowadays, he credits American University and the School of International Service for reviving his belief in public service. "It allowed me to be confident in the American identity and American policy again. And it reenergized my desire to serve the country," he says. "And I have to say, even from a spiritual standpoint, just going through the international studies program has allowed me to heal in a lot of ways."
Welcoming the Challenge
Hatcher hails from Fayetteville, North Carolina, and his father was stationed at the Army installation Fort Bragg. The younger Hatcher joined the Marine Corps at age 17 and became part of the elite Marine RECON unit.
Hatcher may be an amputee—he lost his right foot during the second invasion of Fallujah—but he doesn't view this as a severe impediment. "I'm physically challenged. I'm not disabled," he says. "And physical challenge is more like an obstacle. It allows you to overcome that obstacle."
Based on his track record since returning from Iraq and starting his rehabilitation at Walter Reed Army Medical Center, it's hard to imagine what his limitations might be. He was on the U.S. National Para-triathlon and Para-cycling teams. He placed second in his division at a half iron man (swimming, biking, and running) world championship in 2008. He swam from a ferry beyond Alcatraz Island to shore. Even during the early months, before he got his permanent prosthetic, he was part of a group that rode their bikes from Washington, D.C. to New York.
How does he get this kind of motivation? In some ways, he views it as an outgrowth of his military injury. "When you have a big ego crush that happens like getting blown up and losing a foot—or something like that—it challenges you because you now have to redefine your ego. You have to redefine your confidence," he says. "This helps you through the psychological recovery of the amputation, or the psychological recovery of the injury."
Becoming a Civilian, Helping Vets
While recovering at Walter Reed, Hatcher met Lee Miller, a Vietnam veteran and adjunct professor at AU. Through this relationship, Hatcher got involved in the Wounded Warrior Mentor Program (WWMP), which helps vets with résumés, job searching, networking, and getting acclimated to civilian life. After gaining stable employment, Hatcher started mentoring with the program and training new mentors.
Over the years, he's also worked with other nonprofits—such as the Challenged Athletes Foundation and the Wounded Warrior Project—to raise awareness for veteran welfare.
Hatcher previously worked at the Immigration and Customs Enforcement (ICE) agency at the Department of Homeland Security. He later enrolled at AU. He's an Honors student with high grades, and he's had wonderful interactions with faculty and students. "As a nontraditional student and being a little bit older, I think that sometimes has a potential to create restrictions. But I've had a healthy, social, beautiful experience here," he says.
Turning Towards Asia
While earning his bachelor's degree from SIS, he specialized in international political economy (IPE) with a regional focus on Southeast Asia and a minor in Chinese language-Mandarin. He's studied abroad in Beijing, and he did his capstone on Chinese currency. "I focused on China because China is the biggest economy in the world right now. What happens between China and the United States will ultimately impact everyone," he says.
After graduation, he's hoping to work for a financial firm somewhere in Southeast Asia. Hatcher ultimately wants to attend graduate school in the general IPE field. It's just another goal, surely within reach.