Communications
Readying Students to Win in the Workforce
School of Communication student builds his future with innovative work study opportunities.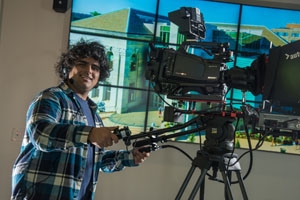 The disruptive nature of technology has rapidly changed the way news is reported and consumed. For students interested in journalism as a career, one must be able to command multiple technologies and share news with readers in new and exciting ways. 
Through the full embrace of technology, American University's School of Communication (SOC) continues to equip and prepare future leaders in the media industry at a pivotal transformative time. School of Communication senior, Geet Jeswani (SOC/BA '15), is a prime example of a highly prepared SOC student who has trained on the latest communication and production technology during his tenure at AU.
Jeswani began his AU career as a political science major, but "quickly fell in love with communications"—specifically journalism—deciding in his junior year to earn a BA in Film and Media Arts to accompany his political science studies. "SOC is going to give me the best skills possible to succeed in the digital world and prepare me to reach my dream of becoming a news producer, and one day managing my own online news bureau," he added. Through this, he hopes to explore ways that the Internet, video, and graphics can be leveraged to provide in-depth analysis and focus on topics that are usually not covered by the mainstream media.

Seizing Opportunities 
Jeswani seized opportunities to grow as a student and as a rising multimedia journalist by applying for AU work study positions, as well as internships to sharpen his knowledge and technical skills. He currently works as a projectionist and production assistant at AU's Malsi Doyle and Michael Forman Theater where he gains experience using a Sony 4K digital cinema projection system and a Denon surround sound system that powers the 145-seat theater. 
Jeswani also works as a camera operator and floor director in the control room of SOC's Media Innovation Lab. There he has hands-on exposure with many components of the production process and is involved in hosting live broadcasts. "I am pretty much taking another college course in this job because I get to work alongside producers, directors, audio engineers and camera operators," says Jeswani. 
Taking ATV to New Heights
Jeswani, who has been working at the student led AU TV station ATV since his freshman year, has taken the station to new heights. ATV is a volunteer driven organization that provides opportunities for its members to gain access to premier after-effects, hands-on work with cameras, and real studio experience in producing 20-minute news segments for the station. During his sophomore year, Jeswani introduced the idea to register ATV with the White House Correspondents Association, to have the opportunity for ATV reporters to cover the White House and related events in the future. He became a White House Correspondent at age 20 and provided the opportunity for his fellow ATV reporters and camera operators to cover breaking news from the White House Briefing Room.
"The whole experience is just mind-blowing," Jeswani recalls. "We were in the presence of a lot of great journalists. Arguably the best in the business such as John King, Ed Henry, and Wolf Blitzer." Jeswani credits SOC with his technical skills in film and television production, including his audio-visual skills and post-production knowledge. "Because of SOC, I have learned professional techniques for filming and editing a news package, which was essential to working on a project at this prestigious level." 
Jeswani is in his second year serving as the general manager of ATV. Last year he organized and managed a multiyear equipment renovation for the station. Nearly $40,000 was raised to replace legacy equipment from the studio's control room and server room. The technology upgrade allowed ATV to transition from broadcasting in standard definition to high definition, and enables the use of 4K cameras. Jeswani leveraged hands-on training and knowledge gained from his Film and Media arts classes, SOC professors, and technical AU staff members to personally test and select the equipment for purchase, ultimately preparing the organization for the next 30 years of film/television production. 
Internships, Internships, Internships
Jeswani also held multiple internships, including a semester working for the BBC World News as a 2012 election coverage assistant, interning for WTOP, serving as a production assistant at WAMU, and lastly, supporting National Geographic as a broadcast operations intern. 
Technology uniquely positions journalism schools to offer invaluable hands-on training to prepare students for the careers that lie ahead. AU is blazing the trail by producing multifaceted students like Geet Jeswani that represent the future of journalism, film, and media arts.