Grads Return to Campus as Alumni Auditors
By Tatiana Ozerov
January 10, 2013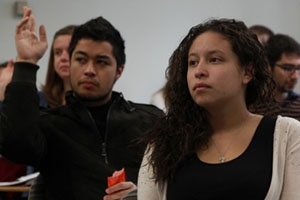 Each semester, nearly 150 American University alumni return to campus to attend courses through the alumni audit program. One of the university's most popular alumni benefits, the program allows those who have earned a degree from the university to audit one course per semester for a nominal fee of $100. Not only does the program provide alumni with an economical opportunity to pursue personal and professional development, but also to support and remain connected to campus.
A wide range of courses are available under the alumni audit program. Many alumni return to campus for professional development reasons. Local graduates are able to take courses that help them build knowledge and skills to advance in their careers, something that appeals to recent graduates as well as those who have been away from campus for longer. Alumni develop their networks through connecting with like-minded students and professors. "What appealed to me was that I would be able to get back to learning in an AU classroom and study what is relevant for my career," says alumni auditor Tara Shaughnessy, SPA/BA '10.

Another benefit of the alumni audit program is the opportunity to explore a new interest or develop a hobby. Auditors can take a break from their professional lives to pursue personal growth. Many choose to further their communications skills through foreign language courses, while others may take an art course or a class taught by their favorite professor. Repeat alumni auditor Bill Brown, SPA/MA '07, has taken advantage of the program to pursue one of his hobbies. "Audio recording is a hobby for me, and the introductory audio technology courses that I've taken so far have been excellent.," he says.

Participation in the alumni audit program supports the Alumni Association Scholarship, which provides funding to legacy students who have a father, mother, or grandparent with a degree from AU. The $5000 scholarship is awarded every other year to an undergraduate freshman student and is renewable for up to four years. Of the $100 alumni audit program fee, $75 goes toward to the Alumni Association Scholarship Endowment.
It's not too late to sign up for the alumni audit program for the Spring 2013 semester. Submit your application online by 5 p.m. on January 18.