Research
Music and the Afghan Refugee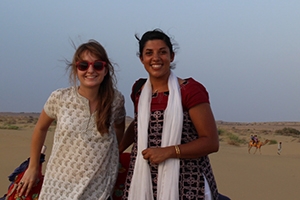 Like many people, Sydney Krieck (CAS '14) was affected by the collapse of the World Trade Center towers on September 11, 2001. She grew up a 30-minute drive from New York City, and she knew two people who died in the tragedy. In addition, 17 people from her town died. The resulting second Afghan War further muddled her emotions and thoughts on the tragedy and the people it affected. "It's always been a sensitive issue for me, and I have trouble comprehending it," she says. "I learned about war and conflict in my classes at school, but I didn't really understand it." 
Krieck, a music and anthropology double major with a focus in ethnomusicology, blended her interests in social change and music with her desire to educate herself about the Afghan people after the instigation of the war in Afghanistan. Her senior thesis, "Music and the Afghan Refugee: Identity, Memory, and Place," examines the importance of traditional music in the Afghan refugee culture. "A culture's traditional music is important when you're living a life without technology and other things to occupy your time, which is something that refugees experience," she says. "This paper was an exploration of that idea, and it helped me understand the Afghan people a bit better." 
Krieck stumbled upon ethnomusicology after realizing that her original plan, to study music education, fell through. "When I came to AU, I thought I knew what I wanted to do, but I took a music theory class and it wasn't for me," she says. "But then I took a sociology class called Views of the Third World taught by an anthropology professor. I'd grown up in a small town my whole life that felt like a bubble, and I realized there was so much more I wanted to know." After that, she declared her double major. 
While abroad in Denmark in 2012, she focused her studies on Muslim integration in Danish society. When she returned to AU, she took a class on music and Islam to further her interests in Muslim culture that were ignited while studying abroad. "We talked about Afghanistan, its musical history, and how that was affected by the conflict," she says. Krieck decided to do more research on what she learned in the class, which resulted in her thesis. 
When the 2014 Robyn Rafferty Mathias Student Research Conference put out the call for submissions, Krieck sent in an abstract and was selected to participate. "I'm really proud of my research, and this was a great way to prepare for when I'll have to do this in the future," she says. "It really taught me how to tell a story to the people in the room." She received an award for Best Oral Presentation in the Social Sciences by a Junior or Senior. 
Krieck enjoyed educating the audience about Afghan culture, and she says she hopes to one day extend that kind of influence into an international organization. "The end goal for me is to be able to work in or create an organization in North Africa or southeastern Turkey—places I see that are the next hotspots of refugee culture."