International
IMI Staff Evaluates Program in Ukraine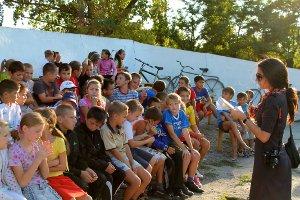 In September, three members of the SIS Intercultural Management Institute (IMI) journeyed to Ukraine's Crimean peninsula to evaluate a Danish conflict-prevention and society-building program.

Research and Publications Coordinator Justin Papka, Program Associate Walid Hammam, SIS/MA '12, and Ph.D. student Yelena Osipova work with Cross Cultures Project Association's Open Fun Football Schools. The Danish program encourages positive changes in multiethnic and multicultural dialogue, cross-community interactions and peace-building through childhood sports.

During this first trip to the towns of Andreevka, Feodosiya, Kostochka and Gruvshevka in September, the staff engaged with youth, coaches, parents and local government officials. Yevgeniy Stolitenko, a local who is in charge of Grassroots Development at the Ukrainian Football Federation, also joined IMI field staff.

"The Cross Cultures Project wants this to be more than youth sports. They want it to mobilize local communities," Papka said. "Despite the country we go to, or cultural tensions we witness, local communities always seek an outlet to feel normal and get away from economic, cultural and ethnic problems."

The benefits of the program include reaching out to underprivileged sections of society, including girls, minorities and orphans, as well as improving cross-cultural understanding, said Hammam.

"Parents, children and teachers came out en masse, seeming genuinely intrigued and excited. They're coming together as a community, finding happiness in the face of so much strife," said Osipova.

IMI will return to Ukraine in October to complete the program evaluation, which determines the effectiveness of the initiative by using focus groups, surveys and interviews in the four communities.