On Campus
SPA Announces Full Slate of Competitors for Mock Trial Tournament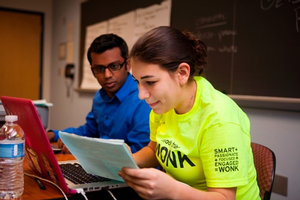 Twenty colleges and universities from the across the country have confirmed participation in the second annual WONK Invitational Mock Trial tournament. 
Wonk Trial 2: Red, Wonk, and Blue is hosted by SPA's Mock Trial team. The tournament will be held on the AU campus November 10th and 11th.
Teams from these schools will attend:

American University
Bowling Green State University
Case Western Reserve University
Columbia University
Duke University
Elon University
Fordham University - Lincoln Center
Georgetown University
Howard University
Penn State University
Swarthmore University
University of Georgia
University of Maryland
University of Maryland - Baltimore County
University of Michigan
University of North Alabama
University of North Carolina - Chapel Hill
University of Richmond
University of Southern California
Washington & Lee University
Mock Trial at AU aims to make WONK Trial a top-notch tournament experience by providing guests with a prompt schedule of events during the tournament, high-quality judging in every round, and a diverse range of schools to compete against throughout the competition.
If you have any questions about the tournament, please contact: mocktrialwonk@gmail.com.