Business
Thinking Beyond the Bottle: Annual Kogod Case Competition Focuses on FIJI Water and Corporate Social Responsibility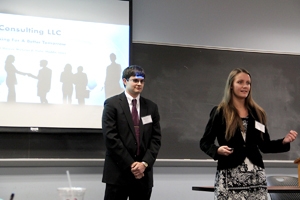 When does marketing cross the line from brand promotion into consumer deception? To what extent does a corporation have to consider how its business practices affect the broader community? How does a company bounce back from a public relations nightmare?
Students who participated in the 22nd annual Kogod Case Competition faced these questions and more as they examined the roles of "green washing" and corporate social responsibility (CSR) as they related to FIJI Water.
The case became available to the more than 150 student competitors just before midnight on Tuesday, February 4, beginning a 72-hour race to develop a plan of action for FIJI. Unlike with many cases of years past, students were pushed beyond the confines of financial statements and organizational structures, resulting in a wide array of proposed solutions.
"The case was very amorphous in nature," said long-time judge Susan Traver, MBA '84 and a regional president for BNYMellon in D.C. "There was a lot of room for the students to take as wide an approach or as deep as they wanted and that made for very diverse presentations."
A Corporation's Responsibilities
The FIJI Water case opened the students's eyes to the realities of business practices in the 21st Century—when the consumer can track every action a company takes during production and, thanks to the internet, can comment on those actions in a public forum.
"Every business in the coming years is going to have to have a CSR policy. It's going to be the next 'big thing' in the business world for the next generation," said Associate Professor Jennifer Oetzel, the Kogod faculty member responsible for selecting this year's case.
"The sooner our students start thinking about CSR strategy and how that will factor in to a business strategy as a whole, the better prepared they will be," she said.
For many students, selecting a case like FIJI's was exactly why Kogod stood out among business programs.
"I knew when I was planning to return to school that I wanted to be somewhere that would nurture my passion for making the world a better place and provide the business skills necessary to do so," said Cate Johnson, MBA '15 and member of a winning team. "Giving us a case like [FIJI's] for this competition is exactly what I would expect from Kogod."
For younger students, the experience opened their eyes to many of the personal challenges they could face after graduation by forcing them to look beyond initial impressions.
"At first I really recoiled at the case," said Maddie Jones, BS/SIS/BSBA '16. "I'm a huge advocate of drinking tap water but this was a challenge to sell more bottled water. I really had to step back and look at this as business, not something personal and I think that was good for me."
Jones and her teammates went on to win their division with their proposal to simplify FIJI's distribution plan and focus on more Middle Eastern markets as opposed to Western Europe.
Kogod's annual case competition is just one way the school is dedicated to providing hands-on, experiential learning opportunities to students of all ages.
The Winners
Teams for the competition are divided into three divisions based on student age: 
Massachusetts: Teams comprised only of undergraduate freshmen and sophomores by credit hours. 
Nebraska: Teams primarily comprised of juniors and seniors by credit hours, may include up to two underclassmen and no graduate students. 
Wisconsin: Teams primarily comprised of graduate students and up to two juniors and/or seniors.
Judges could award up to 60 points to each team, divided among the categories of: Critical Issues; Evidence; Recommendations; Questions and Answers; Delivery; and Overall Impression. The winning teams of each division received $175, second place teams $125, and third place $75.
Massachusetts Division Final Rankings
First Place—Team BJI: Gabriel Marcus, BA/SIS/BSBA '16; Nicholas Fisfis, BSF '17; and Maddie Jones, BS/SIS/BSBA '16. 
Second Place–Capitol Enterprises: Michelle Graff, BAE 16; Arun Raman, BSBA '16; Alec Hutkoff, BSBA '16; and Andrew Lowery, BSBA '16. 
Third Place—JRJH & Co.: Jessica Antopol, BSBA '17; Radhika Handa, BSBA '17; Jenn Rudin, BSBA '17; and Harry Glenn-Finer, BSBA '17.
Nebraska Division Final Rankings 
First Place—Business Sauce: Spencer Swan, BSBA '15; Molly Fallon, BSBA '14; Nick Eng, BSBA '15; and Laura Iaffaldano, BSBA '15. 
Second Place—Thrive Enterprises: Laura Uribe Tuiran, BSBA '15; Matteo Garofalo, BSBA '16; Sidney Li, BSBA '16; and Jacob Wanner, BSBA '15. 
Third Place—Wigeon: Kaitlyn Martell, BSBA '14; Jasmine Guo, BS/SIS '14; Meghan Fredericks, BSA '15; Tim Walsh, BS/CAS '14; and Adam Kohl, BS/SIS '15.
Wisconsin Division Final Rankings 
First Place—Quad Consulting: Cate Johnson, MBA '15; Andreas Vailakis, MS/SIS '15; and Kate Large, JD/MBA '15. 
Second Place—BISCUIT: Timur Khaydarov, MBA '15; Panukorn Lekhaka, MBA '15; Michael Wei, MBA '15; and Shivani Khera, MBA '15. 
Third Place—Varietas: Amanda Robertson, MBA '15; Ahmed El-eraky, MBA '15; Gissela Ticse Flores, MSA '14; and Iryna Casteel, MA/MBA '16.