On Campus
Frank Abagnale of "Catch Me If You Can" Visits AU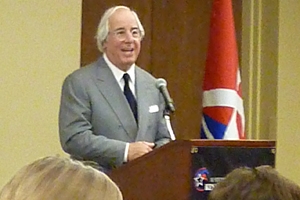 Frank Abagnale spent his youth famously passing himself off as a Pan Am pilot, a doctor, and an assistant attorney general, and cashing $2.5 million in fraudulent checks.
Despite the relative ease of his schemes, depicted by Leonardo DiCaprio in the film "Catch Me If You Can," he had a surprising message for the crowd assembled to hear him speak on November 15: "Technology has made what I did [then] 10,000 times easier today."
Now one of the world's most respected authorities on forgery, embezzlement, and identity theft, Abagnale has served the Federal Bureau of Investigation for 36 years.
He knows that white collar crime amounts to $900 billion annually—or, as he put it, "way beyond the budget of the Pentagon." This has led to the burgeoning field of forensic accounting, among other specialties.
He urged AU students to carefully consider their actions both off- and online, to guard their personal information, and to protect their money by using credit vs. debit cards.
The reformed con man said his youthful actions are a "burden I live with every day of my life." He spoke candidly about his teenage years, when his parents' divorce set off a chain of events that had him living large but on the run, first in the United States and ultimately abroad.
He was arrested in France at age 21, and served jail time in France, Sweden, and the U.S. before his release at 26. "I always knew I'd get caught," he said.
The Kogod School of Business brought Abagnale to campus for the Annual Lecture on Fraud & Forensic Accounting; the Kennedy Political Union also sponsored the event. 
Alpha Kappa Psi and the Association of Certified Fraud Examiners at American University (ACFE @ AU) also contributed.