Business
Alumna Finds Perfect Fit in Career in Online Marketing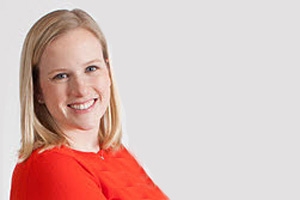 Some people look back at their careers and have no idea how they got from Point A to Point B, but that isn't the case for alumna Jill Mogensen, BSBA '08. She knows exactly how she traveled the path from Kogod to the world of marketing.
On a lark, she registered to take an online marketing course during the fall of her senior year, unsure if she would like it. As it turned out, she loved it, and decided to pursue a career in online marketing.
Online Expertise
Mogensen is a client relationship manager at Experian Marketing Services, a global provider of integrated consumer insight, targeting, and cross-channel marketing. She maintains client email programs, and serves as a strategy lead on new projects in the email space.
Prior to Experian, Mogensen worked for four years at Condé Nast in digital consumer marketing. After working her way up from coordinator to manager, she wanted to try something new, so she shifted her focus to maintaining client programs.
"I wanted to get out of publishing and see other industries and the client side through agency experience," she said.
While much of her portfolio has remained the same, Mogensen's position at Experian now provides the opportunity to manage a team with members in the U.S. and in Costa Rica.
"I like seeing everyone contribute to the team and meet [our goals]," she said. "I like being able to help each individual grow and develop."
Kogod's Guidance
Mogensen had multiple internships during her time at Kogod, both during the school year and during summer break at firms like Pratt & Whitney, working in the firm's European region sales department, and at Octagon, in celebrity consulting and spokespeople placement, finding the right fit for celebrities as brand ambassadors.
But as much as she gained from her internship experiences, Mogensen knows she has Kogod to thank for landing her first job.
"I got my position at Condé Nast through the [Marketing and Communications] trip. I was networking with an alumnus, sent a follow up email and awhile later, got [a reply] out of the blue with an open position."
Mogensen interviewed a few days later and was offered the position while taking finals.
"The site trip literally got me my job," she said.
Part of the Community
Mogensen made sure to be involved as an undergraduate. In addition to being a member of the Delta Gamma sorority, University Honors Program, and the Undergraduate Business Association, she served as an envoy for the 1955 Club.
"The [1955] Club allowed me to share my experience and give honest feedback as to why I loved AU."
She also tutored at D.C. public schools through the Higher Achievement Program and played intramural flag football.
Mogensen feels she made the most of her time at American University and encourages students to become involved in everything they can.
"Take all the opportunity available to you now," she said. "Don't underestimate the impact it has on your future. The more you know and the more you build your network, the greater your reach."