Business
Convenience of Kogod Professional MBA Can't Be Beat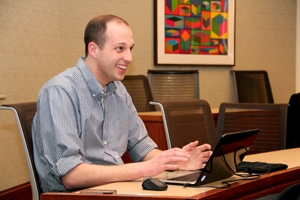 Craig Brandt is a man who puts a great deal of thought into every choice he makes and knows how to weigh the pros and cons of a decision carefully. These traits serve him well as an engineer and also made it easy for him to see that the Professional MBA (PMBA) program from the Kogod School of Business was the best fit for him and his busy life.
"I spent a lot of time looking into a lot of [MBA] programs in the region and when it came to which one would be the best fit for my life it was an easy decision—nothing else could compare to the Kogod PMBA program," Brandt said.
Getting Ahead and Getting up Early
For Brandt, a mechanical engineer for Jacobs Engineering Group, earning his MBA is a step towards transitioning to a management role within the competitive technical industry.
"This region is hyper competitive," he said. "Practically everyone on the job market has a higher degree of some sort and I definitely want to be competitive. An MBA is the best way to learn the [management] skills that will give me a leg up over other technical workers."
School, Work, Life
For Brandt, the convenience of the PMBA truly set it apart. From the all-inclusive, one-time tuition payment—which covers class materials, an iPad, an international learning experience, and more—to being on campus just once a week, the PMBA allows Brandt and his classmates to focus on their studies and their full-time jobs without compromising either.
"It's really a very unique program and is designed with our needs in mind unlike any others I researched," he said. "One night on campus a week is particularly great. There was no way I was going to be able to commit to two nights a week or every Saturday, for years, in order to earn my degree and with the PMBA I didn't have to."
The program's flexibility has even allowed Brandt to stay on top of his studies when out of the country for work. Since he started the program last fall, the expected 2014 graduate has traveled to Lithuania and South Africa.
"My professors have been very understanding of my work obligations. They trust my judgment and ability to stay on top of my own work and are supportive if I need to submit an assignment online instead of in person," he said. "They really understand that we have work and school and at the end of the day we might have to put a little more importance on work."
Brandt has also found the provided iPad to be essential when traveling for work. Not only does it allow him to submit work remotely, it's been a lifeline to his classmates around the globe.
"Beyond just being more convenient to pack for a flight, my iPad has made it possible to connect with my classmates while I'm gone," Brandt said. "It's been a great way to Skype or organize a [Google] Hangout."
More Than Just Classmates
Perhaps the most unexpected and most welcome highlight of the PMBA program, according to Brandt, has been the connections he's made with his fellow cohort members. Thanks to the program's lockstep design, the cohort will go through the entire program together, all taking each class at the same time.
"We've all gotten to know each other very well, even beyond the classroom. We know each other's family and career goals," Brandt said. 
"We're all in the same boat and have really formed our own support system. We help each other, whether it's with homework or with a ride to the Metro."