Research
Linking Labor Unions and the Environment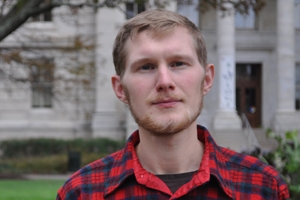 Erik Kojola's passion for workers' rights runs in his blood. The second-year sociology master's student and child of a union household has been fascinated by unions and the world of labor since his time as an undergrad at Oberlin College, where he worked to organize students in support of campus workers.
Alongside Assistant Professor Chenyang Xiao, Kojola has combined his passion for labor issues with his love of the environment to study the interactions of these two fields. His paper "Greening Labor Unions? Environmental Attitudes of Union Members" was recently presented at the Annual Meeting of the American Sociological Association in Denver, Colorado, and George Mason University's Public Sociology Graduate Conference.
"At their core, unions are meant to promote social and economic justice," says Kojola. "They help workers to feel that they have power at work and that they are key parts of the economy." Kojola's research worked to understand the relationship between the labor and environmental movements.
"Labor unions are increasingly collaborating with the environmental movement, especially around green jobs," says Kojola. "In many cases the same corporations that are degrading the environment are also exploiting workers. Yet there has been no empirical research on the environmental attitudes of union members, which is important for understanding perceptions of a 'jobs versus the environment' trade-off."
Using data from the 2010, 2000, and 1993 General Social Survey, Kojola worked to identify the strength of union members' pro-environmental beliefs, their willingness to pay for environmental protection, and their concern for specific environmental problems. He also sought to identify whether there was a tension between members' environmental and economic concerns.
According to Kojola's research, there is no significant difference between the attitudes of union and non-union workers when it comes to the environment. "There is no evidence that unions influenced their members to be more pro-environment or that the more liberal political beliefs of union members translates into more pro-environmental attitudes," says Kojola. "But these results contest the assumption that union workers are anti-environment. In fact, results show that union members share many values with the environmental movement."
Kojola's work also earned him the Kianda Bell Scholarship. This award is given to a sociology master's student who shows exceptional promise in research. Kianda Bell, a former AU PhD candidate in sociology, passed away just before finishing his doctoral work.
After completing his master's degree, Kojola, who also serves as a teaching assistant in the Department of Sociology, hopes to continue pursuing his passions for labor and the environment by earning a PhD in the field and continuing his research.
"In order to be successful, we have to push environmentalism beyond the corporate image it has taken on," says Kojola. "True environmentalism means taking care of the Earth, but it also means being safe at work, having access to 'real food and real jobs,' and eliminating much of the racial and class discrimination that holds people back. We can't address environmental issues without also addressing social issues."