Research
Changing Social Attitudes Toward Women's Health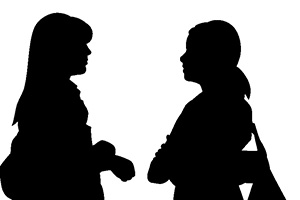 It is estimated that one in four college students has a sexually transmitted infection (STI). And according to the Centers for Disease Control and Prevention (CDC), 19 million new cases of STIs occur every year, half of them occurring in people between 15 to 24 years old. Women are disproportionately at risk. 
Randi Saunders, BA sociology '14, is taking a look at this high-risk group to examine what factors influence the decisions college women make when it comes to STI testing. Saunders, who worked this past semester as a research assistant for the Center on Health, Risk and Society, is examining the ways in which her target audience discusses STI testing in various contexts. She will be taking this research with her to the National Council for Undergraduate Research. 
"I have always been interested in sexual and reproductive health," Saunders says. "And as I started researching major issues in this field during my junior year of college, STI testing for college women stood out."  
To gather her data, Saunders arranged interviews with volunteer college students recruited through email listservs, campus resources such as Today@AU, and word of mouth. Her IRB-approved line of questioning guided each interview. The interviews examined the processes by which women make their STI-related decisions. The use of qualitative data allows Saunders to garner richer detail from her study, without forcing people's experiences into patterns or binaries.  
"Qualitative data lets me ask more and look at more holistic experiences, to see where things intersect and interact with each other," says Saunders. 
Assistant Professor Michelle Newton-Francis, who advised Saunders during the project, describes Saunders as a research wunderkind. "I have worked with Randi in a variety of contexts and have watched her design research and present both her design and findings. When listening to her, it is easy to forget that she is an undergraduate student," says Newton-Francis.  
While Saunders' work is still underway—the broader project continues to develop from her senior capstone—she has drawn some conclusions regarding those individuals most likely to discuss STIs, testing, and treatment.  
"More data collection is needed before concrete results can be claimed," says Saunders. "That said, right now the interviews indicate that individuals who recognize they are at risk for STIs are more likely to seek testing, and that individuals who discuss STI testing with their friends, or whose friends treat STI testing as normal and/or healthy, are more likely to get STI testing. At the same time, these individuals may be cognizant of stigma or taboos surrounding STI testing outside the social group."  
Saunders adds that without interviewing men, or people who identify as anything other than women, it is impossible to draw comparative data. Her focus now remains on women, and the changing social attitudes surrounding women's sexual activity. 
"Even individuals for whom STI testing was taboo, sex itself was seemingly okay to discuss," says Saunders. "Attitudes regarding sexual health, however, aren't changing as quickly. For women, stigma is contextualized, and it's what their friend groups—what women they are close to—think that seems to matter the most. It's not yet clear if that is a gendered experience."  
What are gendered experiences, she notes, are the health experiences that many women experience, such as interacting with gynecologists. 
"If we want to make sexual health more normalized and encourage women to access health services, we need to encourage providers to be non-judgmental and not make assumptions about women's lives and behaviors," Saunders says. "When women feel safe, and do not feel judged by their health providers, they are more likely to be able to move past other social stigmas and take care of their own health."  
"There is increased focus on the social determinants of health by researchers, policy makers, and public health practitioners," says Newton-Francis. "This focus covers a broad range of public health concerns, including HIV/AIDS and sexually transmitted infections. Randi's capstone/honors project is situated within this focus and seeks to understand how the decision to get tested for STIs is gendered among college women, and how it has implications on intervention and treatment."