Business
How One Conference Changed Accounting Students' Career Outlooks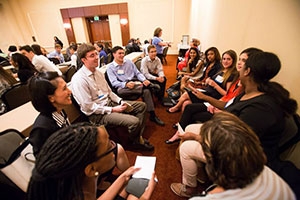 Executive-in-Residence Emily Lindsay knows there's more to accounting education than can be covered in the classroom. That's why she encourages students to attend the annual Virginia Society of Certified Public Accountants' (VSCPA) Leaders' Institute.
The two-day event provides networking and skill-building sessions with accounting professionals and students from other schools in the region.
This year, five Kogod students attended the conference; this is what they had to say.
Devon Wallick, BS Accounting '16
Hometown: Barrington, Rhode Island
The highlight of the event was when all the participants and coordinators of the conference had a chance to relax with pizza and air hockey and get to know each other. After a long day of informative presentations and networking it was nice to just hang out with my friends who would eventually be my colleagues.
With the [stereotype] about accounting majors being boring, it was nice to see how much fun and lively this group was. It renewed my faith in the accounting field and left me with a lot of great memories.
Blaise Fairfax, BS Accounting '15
Hometown: Oak Ridge, New Jersey
The event certainly met my expectations and exceeded them. I was able to go to a career fair that had almost 30 employers available to [learn about] their different opportunities and cultures.
The highlight of the event was a speech called "Setting Yourself Up for Success" with Kevin Wright, a campus recruiter with Baker Tilly. It was about specific steps to take while in school to present yourself as an educated, professional candidate to get jobs. Beyond that, he focused on asking yourself why and where you want to end up in the future and solidifying your own values. Being forced to answer those questions has allowed me to be more confident in what I want in my job search.
It was great meeting new people and learning about their different school environments, accounting programs, and potential career paths. In particular, speaking with other students made me realize how many opportunities Kogod offers for its students.
Eliza Hughes, BS Accounting '15
Hometown: Kennebunk, Maine
[Before the VSCPA conference] I was unsure of what exactly I wanted to do with a degree in accounting and [Emily Lindsay] thought that this would be a good chance for me to get insight into the industry and all of the career opportunities available.
I wasn't sure exactly what I would get out of the event other than learning about the industry, but I got so much more out of it than I had imagined.
I would recommend the Leaders' Institute to any accounting student, whether they know what they want to do or are still as clueless as I was. Getting the chance to interact with other accounting students and industry professionals allowed me to learn about my career options and start to solidify a plan for my future. It was really an invaluable experience.
Brent Sabot, BS Accounting '17
Hometown: Laurel, Maryland
[I began Kogod] in the BS Finance program, but I will be changing to BS [Accounting] this fall, largely because of my positive experience at the VSCPA Leaders' Institute.
Throughout the spring semester, [Emily] Lindsay advised me on career opportunities in accounting. She encouraged me to attend the event to get a greater perspective. I ultimately attended because I knew it would be an in-depth experience to compare accounting careers to my knowledge of finance careers.
The event exceeded my expectations because there was plenty of learning about the field of accounting, but also plenty of information about professionalism, resumes, internships, etc. After leaving the Leaders' Institute, I felt much more informed and prepared to speak with campus recruiters and other accounting professionals. It was a great experience to have before the busy on-campus recruiting season in the fall.