In the Community
Professor Explores Indian Identity Overseas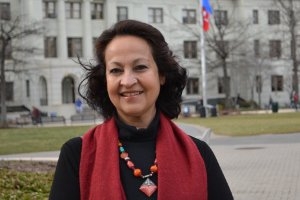 There are up to 20 million Indians who live overseas in about 110 host countries. According to SIS Scholar-in-Residence Maina Chawla Singh, those Diaspora experiences are as diverse as the countries that host them. Her research explores this diversity and delves into questions of identity, gender and ethnicity.

In the last 20 years, Singh has lived in six different countries and studied immigrant experiences in several others, including in Israel, Ethiopia, Japan and the U.S.

"I've been fascinated with questions of identity - how people relate to homelands and redefine their identities. My personal experience of negotiating several different social, religious and linguistic cultures has deepened my own sensitivity to diaspora identity and assimilation," said Singh.

Her most recent book, Being Indian, Being Israeli: Migration, Ethnicity and Gender in the Jewish Homeland, explores the experience of Indian Jews, a rarely researched community. Singh conducted extensive fieldwork in Israel, including more than 150 in-depth interviews and 200 conversations among three Indian-Jewish communities. Her research revealed a deep respect on the part of Indian-Israelis toward India, which "had always embraced their Jewishness without antagonism or prejudice."

As a sequel to this project, Singh focused on migration narratives from 40 first-generation Indian Jewish women, born in Israel and living in India for the last 40 years. She spoke with women like Shoshana and Rachel, who grew up in 1950s Bombay, surrounded by non-Jewish schoolmates.

"My articles focus on such narrations of an Indian-Jewish girlhood untainted by anti-Semitism, and negotiating 'Indian-ness' and "Jewish-ness" almost seamlessly," Singh explained.

Living in Washington, D.C. since 2010, Singh will study another under-researched diaspora community, second-generation Indian-Americans and their role in U.S. politics.

"Today, there is an increasing number of U.S-born Indian-Americans working in government and in electoral politics. It is time to examine the implications of this generational shift," said Singh. She has already observed some 40 events and performed interviews with Indian-Americans on the Hill.

The "Global Indians" Singh studies share a homeland and heritage expressed through food, family and even Bollywood. However, she stresses that the important thing is the unique assimilation experience of each community.

"Indians in Ethiopia or Saudi Arabia are very different from the community in the U.S. or in Israel. Each one is a different model, shaped by the time of migration and the skills and social capital they bring with them," she explained.