Business
Jesse Reed, BSBA '16, Leads Championship Basketball Team in Points and GPA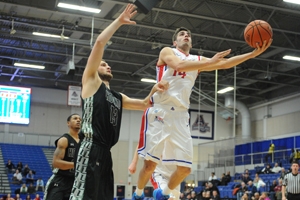 The life of a college basketball player is far from simple. Finding a way to balance practice, weight lifting, film sessions, and games can mean athletes barely have time to sleep, much less study.
But Jesse Reed, BSBA '16, makes it look easy. The leading scorer on this season's Patriot League Championship team—leading to American's first NCAA Tournament birth since 2009—Reed also proved himself a leader off the court, earning the Patriot League Scholar-Athlete of the Year award.
New Season, New Goals
After a disappointing 2012-2013 season, finishing with a record of 10-20, few believed the Eagles had any chance of competing for a Patriot League title in 2013-2014. With Mike Brennan replacing long-time head coach Jeff Jones and the loss of key seniors, the season seemed to be defined by uncertainty before it even began. Preseason rankings predicted the Eagles would finish at the bottom of the league, but Reed and his teammates had different plans.
"We were upset about [the rankings], but at the same time we didn't prove anything," said Reed. "It's understandable that they picked us last but we just used it as motivation."
The sophomore recommitted himself to his craft, improving his scoring average from 3.7 points per game to a team-leading 13.8.
Reed's maturation proved essential, applying concepts from Coach Brennan and from his schoolwork to self-improvement, athletically and academically. 
"I felt more comfortable with the position I was in and just being able to slow things down, not try to force things and let them come to me," he said.
Scholar-Athlete of the Year
For a college athlete to be successful on the court, he or she must be diligent off of it. The Patriot League Scholar-Athlete of the Year award honors players for high academic achievement.
"I was shocked at first; I had no idea I would even be eligible for [the award]," he said. "But to receive it was a tremendous honor."
No stranger to hard work, Reed's upbringing taught him the value of education: "My parents instilled in me from day one: academics first."
But Reed has worked hard to juggle the two, attributing his successes to late nights in the library and sacrifices in other aspects of his life. But in the end, it's all been worth it to him.
"Being a college athlete, being able to balance sports and school…gives you a sense of self-pride," Reed said. "Knowing that you can handle this, there's not much you can't handle."
Finding Support at Kogod
As much as Reed's life centers around basketball, "Kogod is a great place to be," he said. "I go [to the business school] a lot more to do my studying than the library, because there is a sense of comfort."
As an athlete, Reed has been able to apply the skills and habits he's developed on the court to help him academically, citing commonalities between sports and business school.
"In the Kogod School of Business… you have to be able to interact with people, lead an audience or a group," he said. "That's what you have to do in sports."
Sights on Next Year
Reed isn't dwelling on his achievements. Everything that he's been able to do has only inspired him to do more in his remaining two years at AU.
"Getting that taste of success makes you want to have success everywhere," he said.
Athletically, Reed hopes he and his fellow Eagles can continue to dominate the Patriot League, bringing home next year's trophy as well.
But Reed refuses to let his championship aspirations distract him from his post-graduate career. He intends on maintaining his stellar GPA and having a job offer upon graduation, if a professional basketball career isn't an option.
As for next season's hardware, Reed hopes to follow fellow AU Eagle Alexis Dobbs and her back-to-back Scholar-Athlete of the Year awards by securing a second of his own.
"What [Alexis] did was unreal. For her to show that it's possible to [be a good student and athlete] but you got to keep up the hard work, makes you want to achieve it."