International
IMI Hosts 15th Annual Conference on Intercultural Relations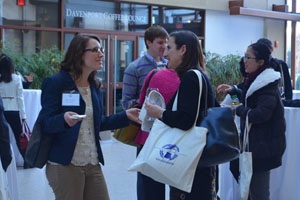 The Intercultural Management Institute (IMI) at American University's School of International Service held its 15th Annual IMI Conference on Intercultural Relations on March 13-14. The conference brought together approximately 200 intercultural relations professionals from various sectors to share their knowledge and best practices with colleagues and like-minded individuals in the field. The conference commenced with a welcome from IMI's Executive Director, Gary Weaver. The Intercultural Management Institute at American University (IMI) provides customized training for effective communication, negotiation, and leadership across cultures. IMI consults with organizations across sectors and trains personnel to recognize and manage cultural differences, turning them into a competitive advantage. They provide academic courses, workshops, symposia, and conferences covering a wide-range of topics dealing with intercultural relations.
During the two-day conference, participants had access to over forty-eight sessions across six different tracks. The tracks included intercultural relations, diplomacy, international education, exchanges and training, healthcare, business, and media and technology. Attendees learned experimental techniques, engaged in discussion about cutting-edge training methods, and shared innovative ideas.
The keynote speakers were Al Jazeera English correspondent, Rosiland Jordan, and senior associate at the Carnegie Endowment for International Peace, Moisés Naím. On Thursday, Jordan discussed the difficulties associated with producing objective news for audiences from different cultures. On the final day, Naím discussed the shift in power dynamics around the world, a topic covered in his newest book, The End of Power, which all participants received a copy of.
The annual conference is an effective venue for equipping participants with a toolkit of resources to apply to their own work and a platform for intellectual conversations around the field of intercultural relations. For repeat conference participant, Olga Sevcuka, this year's conference offered a new set of takeaways. She said, "For the second year in a row, I have greatly enjoyed getting the opportunity to experience the IMI conference. I always learn a lot and come away with new skills and questions. This year was no exception."
The 2014 IMI Conference on Intercultural relations garnered coverage from the International Relations Online Blog.
Next year, the 16th Annual IMI Conference on Intercultural Relations which will be held on March 12-13, 2014 at American University's School of International Service. To learn more about ways to participate in next year's conference, follow IMI on Facebook, Twitter, or LinkedIn.